Deaths rise, aid flown in after Nepal quake: Things to Know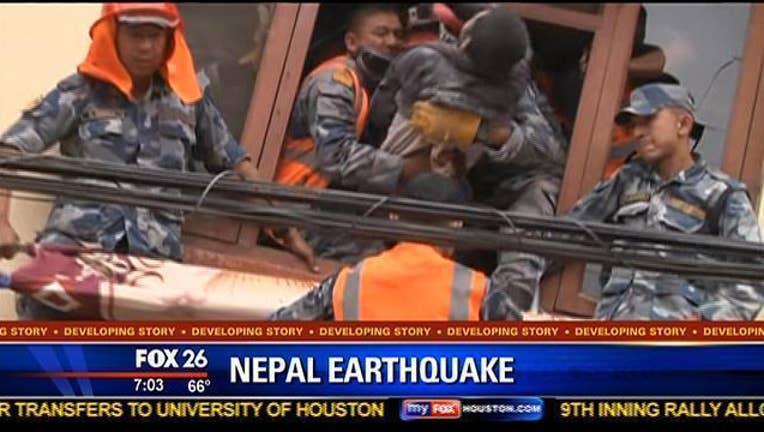 article
By The Associated Press

The death toll climbed above 3,700 on Monday, two days after a magnitude-7.8 earthquake struck central Nepal and surrounding regions.
Key information known at this time:
___
CASUALTIES AND DAMAGE
How much higher the death toll would rise depends on the state of remote Himalayan villages that rescue workers were still trying to reach. Many of the roads are believed to be cut off by landslides, making it likely that some of these communities can only be reached by helicopter.
The earthquake hit the capital, Kathmandu, but its impact spread far beyond. At least 18 people died on the slopes of Mount Everest, where avalanches buried part of the base camp packed with foreign climbers. Another 61 people were killed in neighboring India, and China reported 20 people dead in Tibet.
Nearly 100 aftershocks, including a magnitude-6.7 temblor Sunday, have hindered rescue efforts and terrorized residents sleeping in open squares and parks.
Kathmandu is full of small, poorly constructed brick apartment buildings, and the quake destroyed swaths of the oldest neighborhoods, even as more modern structures stood firm. Most areas were without power and water.
The quake was the worst to hit Nepal in at least 80 years. Nepal's worst recorded earthquake in 1934 measured 8.0 and all but destroyed the cities of Kathmandu, Bhaktapur and Patan.
___
AID EFFORTS
The first aid flights began delivering supplies Sunday after Kathmandu's airport reopened. Tents and water were being handed out Monday at 10 locations in Kathmandu, district chief administrator Ek Narayan Aryal said.
The United Nations said hospitals in the Kathmandu Valley were overcrowded and running out of emergency supplies and space to store corpses.
Some pharmacies and shops for basic provisions opened while bakeries began offering fresh bread. With power lines down, spotty phone connections and almost no Internet connectivity, residents were particularly anxious to buy morning newspapers.
Huge lines of people desperate to secure fuel lined up outside gasoline pumps; prices were the same as they were before the earthquake struck.
The first nations to respond were Nepal's neighbors - India, China and Pakistan. The United States, Canada, the United Arab Emirates, Britain, Germany, France, Poland, Italy, Israel and Singapore also sent aid.
___
MOUNT EVEREST SITUATION
The quake unleashed a devastating avalanche on Mount Everest, killing at least 18 people and injuring dozens. Some warned that dozens of people may still be missing and were almost certainly dead.
The first group of survivors from the avalanche were flown to Kathmandu on Sunday and taken to hospitals. None appeared to have life-threatening injuries.
The avalanche struck near one of the famed mountain's most dangerous spots. It swept down between the Khumbu Icefall and the base camp used by international climbing expeditions.
There were unverified reports of avalanches on other parts of the mountain.
Facebook postings by climbers suggested that some people may have been buried in their tents when the avalanche hit. Climbers and their support teams were leaving the base camp Saturday looking for safer locations.
___
WHAT HAPPENED? AND WHAT HAPPENS NEXT?
U.S. Geological Survey seismologist Paul Earle said the quake happened on what is known as a "thrust fault." That describes the situation when one piece of the Earth's crust is moving beneath another piece.
In this case, it's the Indian plate that is moving north at 45 millimeters (1.7 inches) a year under the Eurasian plate to the north, Earle said. It's a different type of earthquake than the one that caused the 1906 San Francisco earthquake.
"This is what builds the Himalayan mountain range," Earle said.
The region and particular fault has a history of damaging earthquakes, including four temblors with magnitudes greater than 6.0 in the past 100 years, Earle said, warning that landslides are a particular worry now, given the steep slopes in the region.
___
HOW PREPARED IS NEPAL TO COPE WITH SUCH A DISASTER?
Nepal is a relatively poor country without extensive resources despites its rich cultural heritage and spectacular mountain scenery.
It has been plagued by instability in recent years, and general strikes have recently brought chaotic scenes to Kathmandu.
Nepal's constitution was supposed to have been written by the Constituent Assembly that was elected in 2008, following the end of a 10-year Maoist insurgency and the overthrow of the centuries-old monarchy, but the assembly was hampered by infighting and never finished its work.
The current assembly was chosen in 2013, but has faced the same problem.