Confrontation over towed vehicle ends with death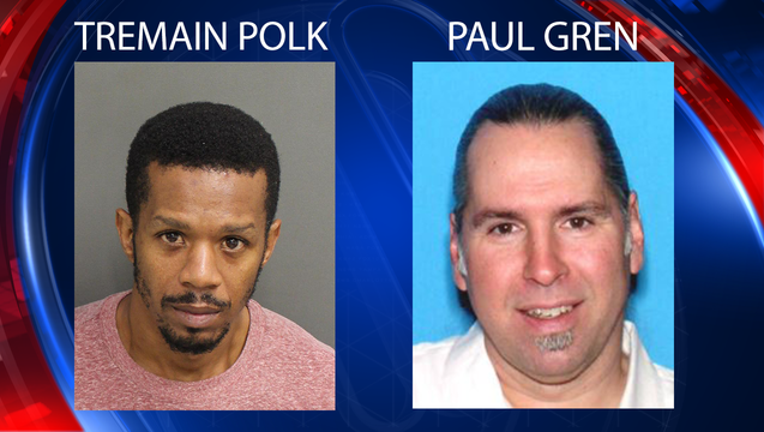 article
ORLANDO, Fla. (WOFL FOX 35) - A confrontation with a tow truck company ended with the death of one and the arrest of another.
Late Tuesday afternoon, the Orlando Police Department (OPD) reported receiving a call from Erica Hicks of the Tow Truck Company on Robinson Street. Hicks told police that there was an irate customer attempting to retrieve his vehicle from their secured impound lot without paying.
While units were responding, OPD reported hearing gunshots over the phone. Hicks told the operator that a black male suspect shot the business owner, Paul Gren.
The suspect, identified as Tremain Polk, was soon apprehended along the railroad tracks behind the business. A gun was recovered along his path. Erica Hicks positively identified him as the man she saw shoot Gren, who had been transported to Orlando Regional Medical Center. He died from his injuries.
Afterwards, Hicks gave a sworn statement outlining everything that happened. Hicks said that Polk entered the business and attempted to pay for his car, but was dissatisfied with the bill issued. Hicks went on to say that he then became irate and tried to push open a door to the secured office. He was warned the police would be called, so he left.
Hicks said she then noticed Polk's vehicle driving away from the secured area towards a closed bay door. Hicks called 911 and followed Gren into the bay.
Hicks' statement outlined that she then positioned herself between Polk and the button which would open the bay door, so that he could not leave. This reportedly caused Polk to advance on Hicks aggressively. Cautious of what Polk would do next, Hicks reported that Gren took a gun he had in his possession and held it in his hand by his side. Hicks claims that Gren never raised the gun and only told Polk that they should wait for the cops to arrive.
Hicks said she eventually opened a door to let Polk out. Before leaving, Polk turned towards Gren, took a gun from his waistband, and fired three shots at him. Hicks locked herself inside the office until the police arrived.
According to police video surveillance footage shows that after the shooting, Polk parked his vehicle in the back lot and jumped several fences, leaving the business. He was soon caught, as previously described.
Polk is charge with Felony First Degree Murder and Armed Burglary.