Teen killed in Montgomery County crash after police chase was going to walk at graduation
MONTGOMERY COUNTY, Texas - A high-speed chase in Montgomery County with teenagers ended with one dead and two others in handcuffs. 
SUGGESTED: Houston police chase ends with officer, suspect crashing into houses
It happened around 2 a.m. when a deputy with the Montgomery County Sheriff's Office tried to pull over 19-year-old Anthony Figueroa in Cleveland, Texas who was going more than 100 miles per hour. 
He refused to stop, and a chase ensued with officers from Patton Village assisting. The pursuit ended when Figueroa took the North Washington exit on I-69 on the northside of Cleveland.
DOWNLOAD THE FOX 26 HOUSTON APP
Because of the curve and how fast the driver was going, the vehicle crashed into the embankment, ejecting one of the passengers, Julio Uribe, 18, killing him.
"The exit is poorly marked as only one sign indicates a speed slow down," Chief Darrell Brousard with Cleveland PD said. "Over the years Chevrons marked the curve but were all destroyed by crashes and never replaced. The driver of the Santa Fe failed to negotiate the curve and went down the embankment ejecting one of the passengers into a low area of water with the vehicle rolling on top of him." 
Meanwhile, another passenger, William Arledge Jr., 17, was found in the car and taken into custody by a deputy, while the driver fled the scene. Both were uninjured. 
With the help of Cleveland PD and the Texas DPS, investigators were able to determine where Figueroa lived based on the car's registration. That's where they found the teen and took him into custody.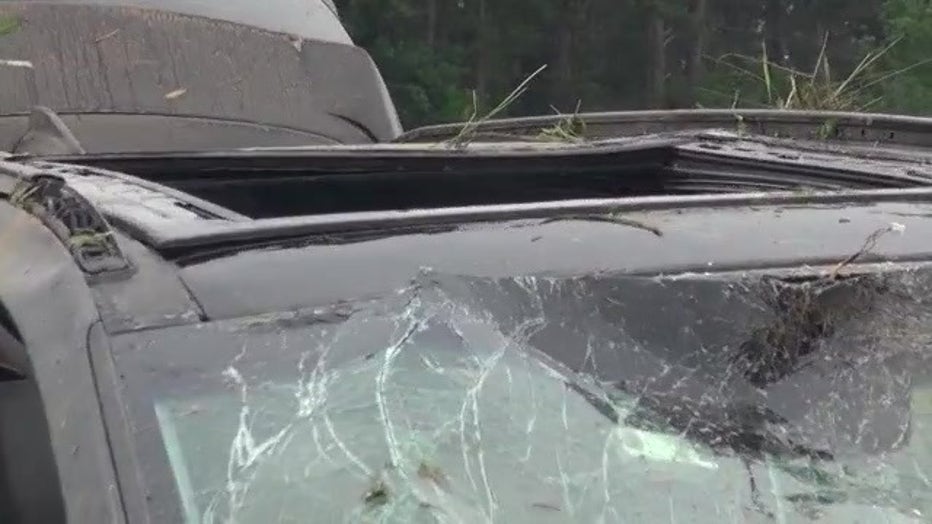 (Photo courtesy of i45NOW) 
Cleveland ISD confirmed Uribe was a student in the district. Officials say he graduated from Douglas Learning Academy last December and was supposed to walk at graduation this Thursday. The school district says they plan to honor Uribe at this week's graduation ceremony. 
The Liberty County District Attorney's Office reportedly has accepted murder charges for the teen, who is expected to make his first court appearance Monday. We're told Arledge Jr. is cooperating with investigators, so no charges, as of this writing, have been filed according to Texas DPS.
Authorities say it's unclear where the teens were coming from or if the driver was intoxicated at the time of the crash.