California bill could limit early school start times; no class before 8:30 a.m.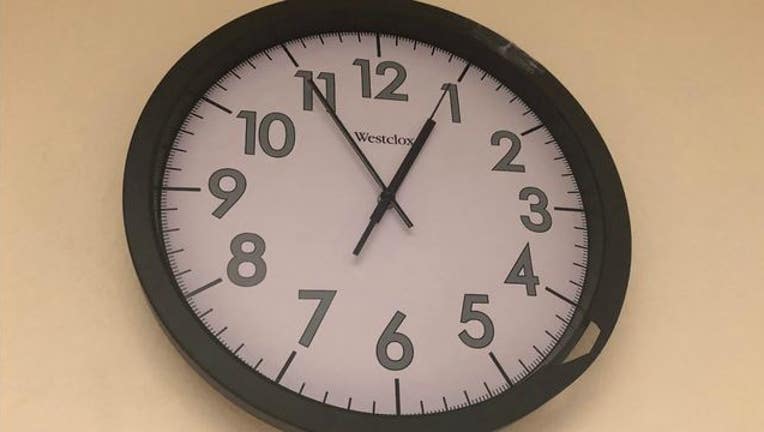 article
SACRAMENTO, Calif. (AP) - California lawmakers voted Friday to bar middle and high schools from starting before 8:30 a.m., one of dozens of proposals debated in the Legislature on the final day of its legislative session.
The bill, SB328, narrowly passed in both chambers. The development came as lawmakers scrambled to pass bills ahead of a midnight deadline, addressing topics ranging from internet neutrality and smoking at state beaches. Lawmakers also announced they were shelving several high profile bills, including one that would have declared gay conversion therapy a fraudulent business practice.
Nearly 80 percent of California middle and high schools started earlier than 8:30 a.m. in 2012, according to the Centers for Disease Control and Prevention. If Gov. Jerry Brown signs SB328, schools will have about three years to comply. It would not apply to rural schools or to extra periods offered before the start of a school day. It would not mandate changes to school day lengths.
Supporters point to science that shows later start times make kids healthier by letting them get more sleep and help them graduate.
"This is the single most cost-effective thing we can do to improve high school graduation rates," Assemblyman Jay Obernolte, R-Hesperia, said.
Opponents say local school boards, not the state, should determine start times.
"When it comes to education, the farther away the decisions are made from the classroom, the worse those decisions are," Assemblyman Jose Medina, D-Riverside, said.
Also on Friday, Assemblyman Evan Low announced he was ending his effort this year to pass a bill declaring gay conversion therapy a fraudulent practice.
The Campbell Democrat said he authored the bill because conversion therapy has been proven ineffective and harmful. His measure would have banned selling or advertising sexual orientation change therapy.
But Low said he needs more time as he tries to craft a national model that could be copied in other states.
The bill had passed both the Senate and Assembly and was awaiting a final Assembly vote to send it to Brown.
Low said he has had productive conversations with opponents, some of whom say lawmakers shouldn't limit therapy choices and others fighting the proposal on religious grounds at emotion-charged legislative hearings.
Low, who heads the Assembly's LGBT caucus, said the bill would not harm freedom of speech or religion because it applies only to commercial practices or financial transactions. A 2012 law limited the practice for minors, but Low's bill would have expanded the ban to adults.
Jonathan Keller, president of California Family Council, a faith-based group that helped organize opposition by local, state, and national organizations and individuals, called Low's decision an answer to opponents' prayers.
Other opponents said they had been prepared to sue to block the bill, arguing that it would have jeopardized the free exercise of religion and religious free speech.
The bill was intensely personal to Low as a gay man who, until laws were recently changed, could officiate at weddings but not have one of his own, or host blood drives without giving blood himself because of a federal ban on gay blood donors.
He said he will continue working to pass legislation next year "that best protects and celebrates the identities of LGBT Californians and a model for the nation to look towards."
Meanwhile, lawmakers sent dozens of other bills to Gov. Jerry Brown including measures:
- Giving California the nation's strongest protections for net neutrality rules intended to ensure a level playing field on the internet.
- Requiring that all new sexual assault evidence kits be submitted to a lab within 20 days and tested within 120 days.
- Banning smoking in picnic areas on state beaches and parks.