Breast cancer patient changes career to help patients like her, with lymphedema
THE WOODLANDS, Texas - All you have to do is watch Dawn McDonald for just a moment and it's obvious that she's a natural when it comes to comforting patients. Her career moved from a school to a hospital, after being diagnosed with breast cancer seven years ago.
"I had surgery and when I woke up from surgery, my arm was swollen, and I thought it was just a result of the surgery and losing lymph nodes and I thought it would go away," says Dawn. Unfortunately, it didn't go away and never will.
Dawn was diagnosed with a condition called lymphedema. It often happens after cancer treatment, when lymph nodes are removed.The main symptom is usually swelling in an arm or leg.
"Most of my swelling is through here, I do wear a compression sleeve. I found a fun one that looks like tattoos," Dawn laughs.
The chronic condition cannot only be uncomfortable, but painful as well. Dawn started seeking treatment from a certified lymphedema specialist at TIRR Memorial Hermann in The Woodlands and it was life-changing for her.
When five of her colleagues, in the school district where she worked, had to undergo breast cancer treatment, they also suffered from lymphedema.
"I kept saying - you have to come here, they will teach you how to take care of yourself. Let me tell you all the things they told me," explains Dawn.
CLICK HERE FOR MORE STORIES FROM MELISSA WILSON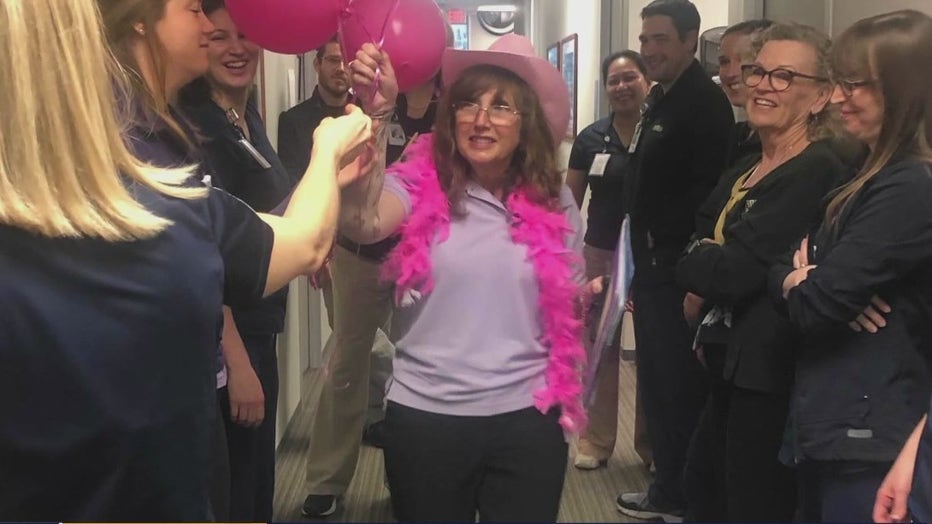 Being able to encourage others empowered Dawn and suddenly gave her life new meaning. That was her 'ah-ha moment.'
"I asked the therapist, what does it take to do this job?  She said, 'Well you're already an OT, but you have to be certified, and she goes, do you want a job?' And I said, 'Well, I have one, but do you want to talk to me about it?' And all the light bulbs went off in my head that I could help people like myself," smiles Dawn.
She got the job! Luckily, her other bosses showed compassion and understanding.
"I had to go back to my employer and say I accidentally got another job helping other women like myself with lymphedema, and they said, 'well we can't get mad at you for that, so go and have a new career.' So at 55 years old, I did an about-face," says Dawn.
RELATED: Advice from late NFL player's wife on living life to the fullest after loss
That career change was challenging, but meaningful in Dawn's life. She got her certification and the healing began for her and her patients.
"It would give me the vitality and the purpose," says Dawn.
Purpose to continue to fight cancer and a distraction, since lymphedema is something she'll have to maintain for life.
"It's kind of like losing part of your plumbing system, at least for surgical patients, and so therefore your lymph system can't pull fluid out of your tissues, so you have to be diligent in daily taking care of it. And so I just wanted to say to people, I can do this daily, and we did not survive cancer not to live. So if you want to run a marathon or you want to go back to CrossFit or you want to lift weights or you want to do gardening, by all means we're going to help you get there, you just might have to modify," says Dawn.
Everything from exercise, to wrapping, massage, and compression can help alleviate the swelling.
RELATED: Teen leukemia patient raises awareness of childhood cancer
"Basically I have to wrap them up like a mummy, kind of like they have a cast on and I tell them, just wait. When I unwrap you is going to be like Christmas, because it's going to be down and you're going to go, oh, it's so small again. And so it's exciting to be a part of that process that works for them, and you can see immediately that if they are diligent like I am, they can manage it and be highly successful," says Dawn.
Moving her arm while helping others, is therapy, within itself for Dawn. It also emotionally helps her and her patients, who realize she is someone who can truly relate to them. She understands what they are going through.
For more information, visit Memorial Hermann on Lymphedema Management.