New Beachfront resort coming to Bolivar Peninsula, The Zoo Beachbar & Grill opening in 2024
HOUSTON - The beaches near Galveston are about to become more exciting with a new dining spot and planned, new resort!
The Bolivar Peninsula is set to have its first, large-scale, and full-service beachfront Bar and Grill called The Zoo. According to Bolivar Investments, The Zoo will be open year-round with extended hours in an area defined as "The Zoo", which is the most popular beachside traffic zone on Crystal Beach.
This new dining spot is planned to be built in the Texas Icehouse style and will have the traditional galvanized metal warehouse building structure with a low hip roofline and shed tower roof. 
THINGS TO DO: Things to do: Bayou City Art Festival kicks off on Friday at Memorial Park
The building will have more than 41,000 square feet of an elevated two-story building with open deck areas on the building sides along with large flat LED screens to be placed around the floors to provide optimum multidirectional visibility, says Bolivar Investments.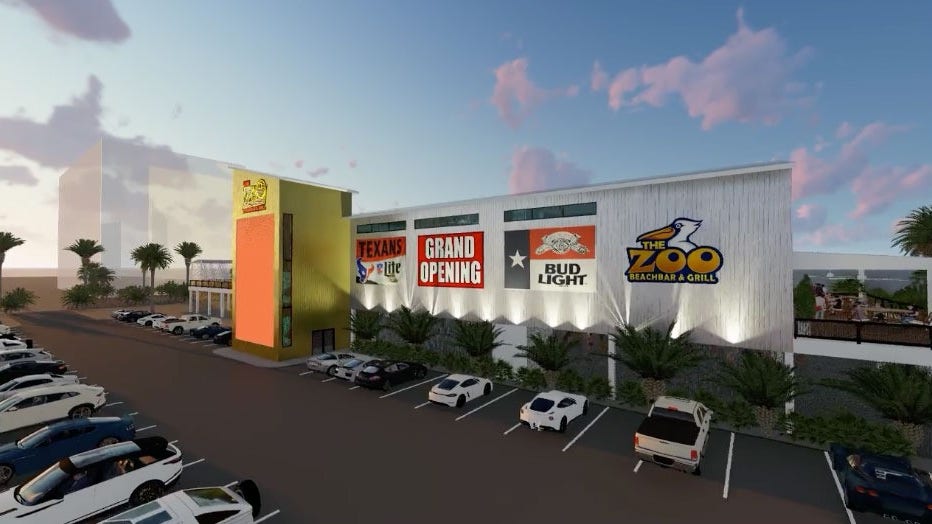 Photo Credit: David Muir, The Peninsula Beach Resort
The real estate company also says The Zoo's entrance tower will include a waiting area, merchandise counter, and elevator service. The outdoor first-floor bar and service areas will have picnic benches, stand-up tables, multiple bars on the sand and championship volleyball and pickleball courts will be featured as well, according to the company.
STRAWBERRY PICKING: Houston strawberry picking: Where to get fresh berries, fruit, flowers in SE Texas this spring, summer

This new spot along the Gulf Coast will have a main outside entertainment deck featuring a stage pavilion, and several jumbotron TVs.
Photo Credit: David Muir, The Peninsula Beach Resort
The Zoo Bar and Grill is just Phase 1 of a 95-acre multi-phase development happening on the beach.
Bolivar Investments are planning to create a resort property to bring entertainment, dining, and more to the Gulf Coast.
CLICK HERE FOR MORE THINGS TO DO
The company lists its development as follows:
Phase 1: The Zoo Beach Bar and Grill - a more than 41,000 square-foot beachfront Icehouse concept, the largest of its kind, on the entire Texas Gulf Coast.
Phase 2: The Penninsula Beach Resort RV Park - Bolivar's newest and most exclusive 5-star rated 200-unit luxury RV resort park.
Phase 3: Beach Side Cottages - More than 100 uniquely designed, two and three-bedroom rental units clustered around water ponds and natural wetlands that intertwine with the sandy beachside knolls.
Phase 4: Merchants Row- Bolivars' newest most sought-after retail merchants will front the resort on Highway 87 to provide a convenient walk for shopping for guests.
Phase 5: The Penninsula Beach Resort Condos - More than 100 luxury 2&3 bedroom, ultra-modern three-story beachfront condominiums with wrap-around porches, swimming pool, and loads of amenities overlooking the Gulf of Mexico.
Phase 6: The Peninsula Beach Hotel & Resort - A more than 100-room luxury beachfront high-rise resort with two and three bedrooms, large ocean sky decks, poolside cabanas, and room service.
Read more on the planned beach resort by clicking here.