Texas Southern wins SWAC Tournament for 2nd consecutive year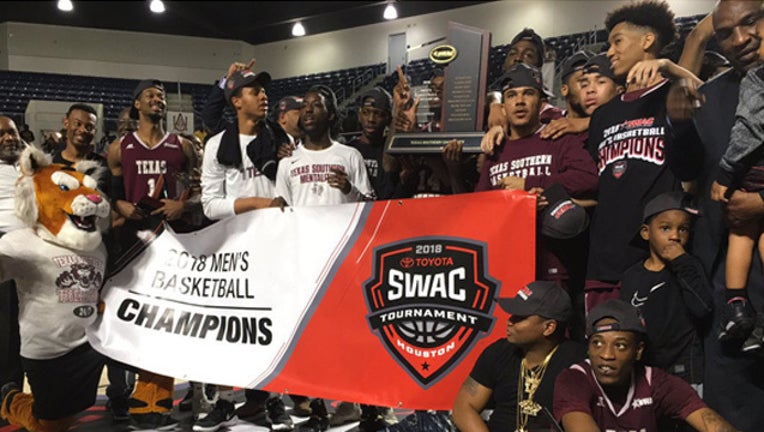 HOUSTON (AP) - Trayvon Reed had 17 points and 10 rebounds, Demontrae Jefferson added 15 points and Texas Southern defeated Arkansas-Pine Bluff 84-69 in the Southwestern Athletic Conference championship game on Saturday.
Texas Southern (15-19) earned an automatic bid into the NCAA Tournament for the second-straight season. This is the Tigers' fourth appearance in the last five years.
Last season, Texas Southern was ousted in the first round by eventual national champion North Carolina.
Texas Southern will try and be the first team from the SWAC to win an NCAA Tournament game since Arkansas-Pine Bluff did it in 2010 beating Winthrop in the opening round.
Despite trailing by nine at halftime, Arkansas-Pine Bluff (14-20) fought back to within two, 57-55, with 11:05 to go in the game.
But just like every other time the Golden Lions got close, the Tigers were able to piece together a run to pull away.
The lights out shooting of Jefferson, who was named the SWAC Tournament MVP, at the free-throw line helped seal the win. Jefferson scored six of the final 11 points for the Tigers, all from the charity stripe. Jefferson finished 11-of-11 from the line.
Top-seeded Arkansas Pine-Bluff struggled out of the gate, shooting just 26.7 percent from the field in the opening 9:17. Texas Southern on the other hand opened the game shooting 80 percent from the field to lead 22-11.
On top of the team struggles, the Golden Lions' star Martaveous McKnight - the SWAC Player and Newcomer of the Year - didn't score a single point during that stretch.
McKnight finally got on the board with 9:38 to go in the first half on a corner three-pointer. McKnight was held to just nine points in the first half and finished the game with 17 points.
The Golden Lions were able to cut down the Tigers' lead at the half, thanks to the play of Travon Harper, who scored the final eight points of the first half.
Harper finished the first half with a 15 points and the game with a team-high 21 points. Christian Robertson also scored 17 points in the loss.