MLB.com reports Jose Altuve close to signing extension with Astros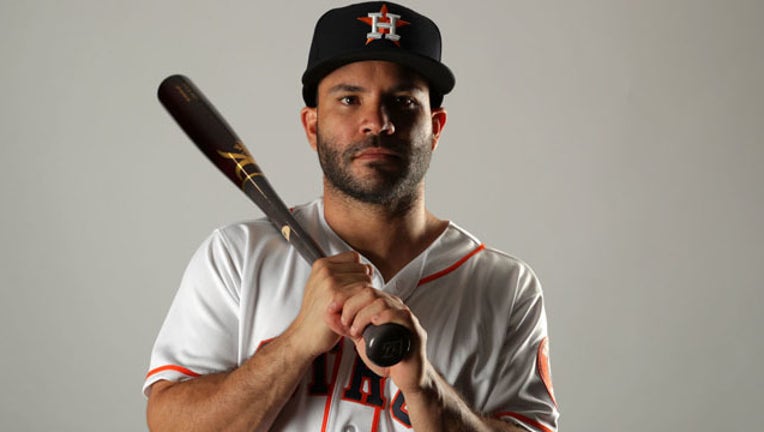 article
HOUSTON (FOX 26) - Houston Astros MVP second baseman Jose Altuve is close to signing a five-year extension with the team worth $150 million that begins in 2020, MLB.com first reported. FOX 26 Sports has confirmed the Astros and Altuve are close to having a deal done on a five-year extension worth around $150 million. Counting the 2018 season, the contract will tie Altuve to the Astros for seven years.The team holds a club option for 2019. MLB sources say the deal should be done early next week.
In addition to helping the Astros win its first World Series in the team's history, Altuve's 2017 included many honors including the American League MVP award, American League Hank Aaron Award, American League Silver Slugger Award Associated Press Male Athlete of the Year, MLB Player of the Year and American League Most Outstanding Player.
Altuve was also named the Sports Illustrated Sportsperson of the Year alongside Houston Texans defensive end J.J. Watt.
---
A person familiar with the negotiations says AL MVP Jose Altuve and the World Series champion Houston Astros have agreed to a contract that guarantees him an additional $151 million over five seasons from 2020-24.
The person spoke to The Associated Press on condition of anonymity Friday because the agreement had not been announced.
Altuve has been one of the biggest bargains in baseball. The 27-year-old second baseman is earning $6 million this year under the first option exercised by Houston in a deal he agreed to in 2013 that originally guaranteed $12.5 million from 2014-17. The Astros have a 2019 option at $6.5 million. He would have been eligible for free agency after that season.
The sides are still working on structuring what portion of the additional money will be categorized as a signing bonus to be paid in installments and what portion will be listed as salary. The average annual value of the new money is $30.2 million, among baseball's highest.
The 5-foot-6 Altuve hit .346 last season to win his second straight AL batting title and third in four seasons. He had 24 homers, 82 RBIs and 32 stolen bases
___
More AP baseball: https://apnews.com/tag/MLBbaseball