Houston Texans fire head coach David Culley after one season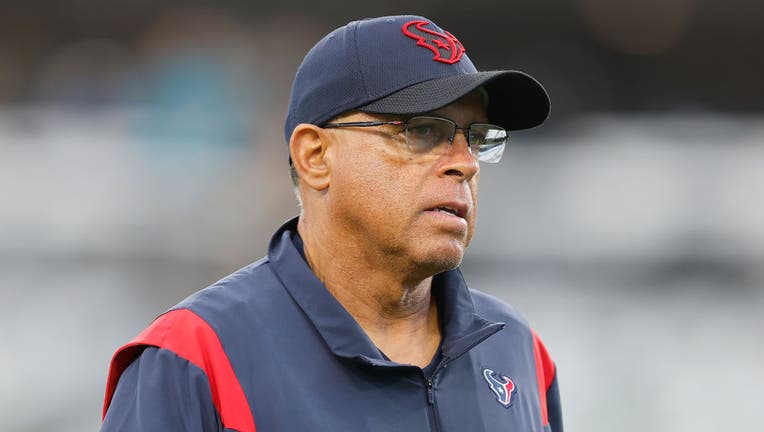 article
HOUSTON - The Houston Texans fired head coach David Culley after just one season on the job.
Sunday after the Texans final game of the season Culley told the media he thought he would continue as the team's head coach.
CLICK HERE FOR MORE ON THE HOUSTON TEXANS
"As of right now I feel like I will be coaching this team next year," Culley said Sunday. "I'm looking forward to being the head coach of this football team next year."
Culley made similar statements 24 hours later.
RELATED: Houston Texans fans react matchup with the Jacksonville Jaguars
"As far as I know I'm the head coach of the Texans right now, moving forward," Culley said Monday.
And when asked when his staff will find out about their future Culley said "As far as I'm concerned their future is now. They're here. They'll be coaching with me."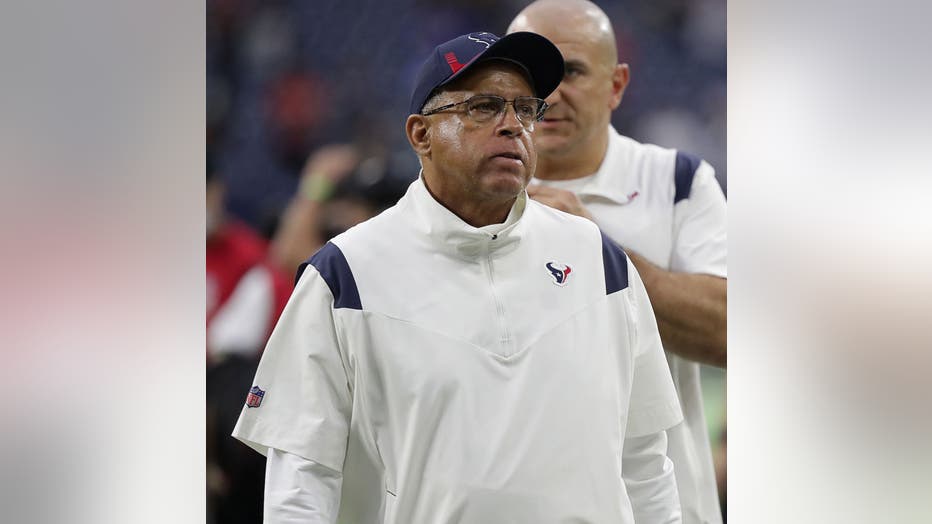 Head coach David Culley of the Houston Texans against the Los Angeles Chargers at NRG Stadium. (Photo by Bob Levey/Getty Images)
MORE: What is Black Monday? Coaching changes come for struggling NFL teams
Culley also said he's had a blast coaching the Texans.
"I loved every minute of it," Culley said Monday. Nobody likes losses, but I love this job … and that's a beautiful thing."
Today, Culley is unemployed.
DOWNLOAD THE FOX 26 APP FOR THE LATEST SPORTS ALERTS
In a statement released by the team on Thursday, Culley said, "I loved every minute of being the head coach of the Houston Texans. I appreciate the players and coaches for staying the course with me through the ups and downs of our season. I'm disappointed we didn't win more games and I won't have a chance to improve on the lessons I've learned, but I fully understand this is a bottom-line business and I didn't do enough. I want to thank the McNair Family and Nick Caserio for giving me this opportunity, I am forever grateful for the experience. I wish this team and organization the best, they are building a special program and I truly believe the future is bright for Texans fans."
While he went just 4-13 in his only season as the Texans head coach with a roster that was not expected to win many games, Culley led his team to a pair of monumental upsets over the Titans and Chargers, could have beaten the Patriots and had a shot at sweeping Tennessee.
In a statement, Texans GM Nick Caserio, said, "Earlier today, I met with David Culley and Tim Kelly to inform them we will be moving in a different direction at the head coach and offensive coordinator positions. I came to this difficult but necessary decision after reviewing our football operation. While a change after one season is unusual, we had philosophical differences over the long-term direction and vision for our program moving forward. We appreciate Coach Culley for helping us navigate through a difficult season, but it is my responsibility to make decisions that I feel are best for our organization. The search for the next coach of the Houston Texans will begin immediately."
During sessions with the media Sunday and Monday, the Texans players made available to reporters offered support for Culley, including quarterback Davis Mills.
"I loved him as a coach and I hope he's back," Mills said Sunday.
Defensive tackle Maliek Collins had similar thoughts.
SIGN UP FOR THE FOX 26 NEWSLETTER
"He's consistent and that's what you want in a head coach," Collins said Sunday. "That's what you want in a leader of men."
FANS REACT TO CULLEY FIRING
"I'm glad [to see the firings]," said David Gonzalez, "Maul", a Texans super fan. "[I'm] Happy to see it. Anybody but O' Brien. I know he's available. As long as he doesn't come back."

"It was to be expected to a certain degree," said Debbie Kerschen, "Bobo", another Texans super fan. "I kind of hate it in a roundabout way. I know the players spoke highly of [Culley]."

Both Gonzalez and Kerschen attend almost every Texans game. Neither were shocked by the organization's decision.

"I back the decision," said Kerschen. "There's something they knew, that we didn't. I guess they see us going in a different direction. It's a brand-new start. It's a brand-new team. We can only go up from here."

"We need a head coach with winning experience," said Gonzalez. "Also, stop getting players at the end of their careers."