Harden scores 34 as Rockets hold off Timberwolves 129-120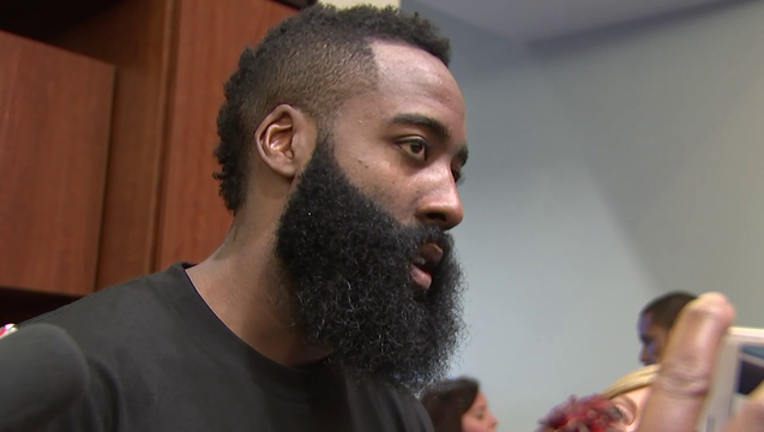 article
MINNEAPOLIS (AP) - James Harden had 34 points and 12 assists, and Houston held off a fourth-quarter rally to beat the Minnesota Timberwolves 129-120 on Sunday night for the Rockets' 26th win in 28 games.
The West's top team led by as many as 25 before the Timberwolves, holding on for dear life in a tightening playoff race, pulled within five in the fourth. The loss dropped the Wolves into the eighth playoff spot after they started the day in a three-way tie for fifth.
Harden had 11 points in the final 6:34, including a 3-pointer with 58 seconds left that effectively secured the win.
Chris Paul and Clint Capela each had 16 points for the Rockets.
Jeff Teague led Minnesota with 23 points, Andrew Wiggins had 21, and Karl-Anthony Towns and Jamal Crawford each added 20.
The Wolves got a burst of energy after a fourth-quarter scuffle between Gorgui Dieng, Paul and Gerald Green. Green was ejected for coming to Paul's defense after a frustrated Dieng pushed him down after a foul. With the pumped-up crowd chanting "Gor-Gui!," Derek Rose had back-to-back layups to pull the Wolves to 109-102. But Paul hit a jumper with Crawford in his face, and Harden easily drove past Dieng for a layup to give the Rockets some breathing room.
Minnesota's 19-6 run made it 115-110 with 3:58 to play before Trevor Ariza hit a 3, and the Rockets were able to answer every Wolves bucket to hold off the rally.
The game was seemingly over by halftime; Houston shot 63 percent, hit 11 3-pointers and led by as many as 24 in the first half while turning the ball over only three times. Harden had 10 assists in the first half, when the Wolves were as close as three before Houston reeled off a 12-0 run and didn't allow Minnesota to recover.
TIP INS
Rockets: It wasn't Houston's first 70-point half against the Wolves this season. The Rockets scored 72 in the second half during last month's win in Minneapolis. ... Capela had 12 rebounds for his 36th double-double of the season and Harden had his 27th.
Timberwolves: All-Star Jimmy Butler, who hurt his knee in the last matchup with Houston on Feb. 23, spoke to reporters before the game for the first time since the injury and said he's targeting a return before the end of the regular season. He had meniscus surgery on Feb. 25, with an initial recovery timetable of four to six weeks. ... Towns had 18 rebounds and notched his league-leading 59th double-double of the season. ... Crawford had his fourth 20-point game of the season.
UP NEXT:
Rockets: at Portland on Tuesday night.
Timberwolves: against the Los Angeles Clippers on Tuesday night.