Carlos Correa wins Rookie of the Year honor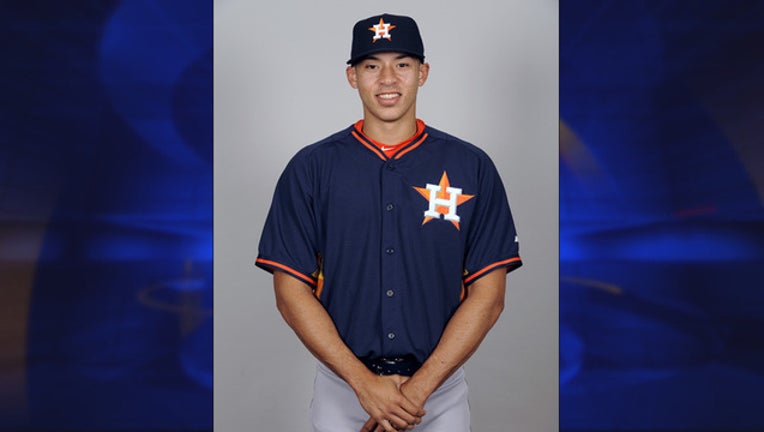 HOUSTON (FOX 26) - Houston Astros shortstop Carlos Correa is named the American League Rookie of the Year by the Baseball Writers Association of America. Correa played most of the season at age 20, and was the youngest position player in the Majors.
Called up in June, Correa played in 99 games, hitting .279 with 22 home runs, 22 doubles, 68 RBIs, 14 stolen bases and an OPS of .857.
"It's like a season that I only thought would happen in a dream," Correa said during a conference call with the media.
"People are really passionate about baseball here in Puerto Rico. To be able to be able to bring this award back home, it really means a lot"
In an interview with FOX 26 Sports earlier on Monday Correa expressed his appreciation for the support he has received from everyone in the Astros organization.
"It means a lot," Correa said. "The guys, the players, the front office, everybody with the Astros supports me in a great way. The organization made me a better player. Since day one I felt like that was the place they wanted me to be. So I felt welcome as soon as I got to Chicago (MLB debut)."
"It's pretty awesome when you play for a team like that, a team  that has players that care about others and they go out and give 100 per cent all the time."
Among American League rookies, Correa was first in home runs, slugging percentage (.512) and OPS. He was second in RBIs and on-base percentage (.345) and third in batting average.
Correa set the Astros franchise record for home runs by a rookie and a shortstop.
Correa's 18 home runs before turning 21 are second only in big league history to the Yankees' Alex Rodriguez.
And Correa hit third for an Astros team that pushed the eventual-World Champion Kansas City Royals to five games in the American League Divisional Series.
Against the Royals, Correa hit .350 with two home runs and four RBIs.
Correa is just the second member of the Astros franchise to be named Rookie of the Year. Jeff Bagwell was named National League Rookie of the Year in 1991.