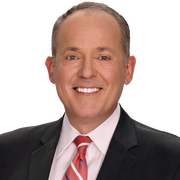 Like a lot of folks in town, Tom's not a native Houstonian but he got a taste of Texas a long time ago. Some of his fondest memories are of childhood visits with family that still lives here: surfing in the Gulf, NASA during the Apollo days, getting his first cowboy hat. Tom has worn a lot of different hats since coming to FOX 26 in 1998, including as an investigative reporter, the station's consumer advocate 'Problem Solver' and reporter for the highly-successful Predator Check project. He has also covered a lot of the area's modern-day tragedies and joys: The Aggie Bonfire collapse, The Shuttle Columbia disaster, Hurricanes Katrina and Rita, the Astros 2005 trip to the World Series and the two occasions the Super Bowl was held at NRG Stadium. If there's a story to tell, Tom wants to meet the special people making news and share their tales. When not working, you can often find Tom on a bicycle, pedaling Texas roads, finding charitable causes like the National MS Society to help or staying busy with his family. He's happy to share his Texas adventure with his wife and two daughters.
The latest from Tom Zizka
In these days of growing mobile shopping, many stores have their own apps to appeal more directly with you, even allowing you to scan items for price comparisons.
Expect ticket brokers to pick up the slack with premium pricing. Just before Game 1, the best price for standing-room-only was running $433 a ticket, while the best seat in the house exceeded $10,000.