Warnings intensify as Trump forges ahead with Jerusalem declaration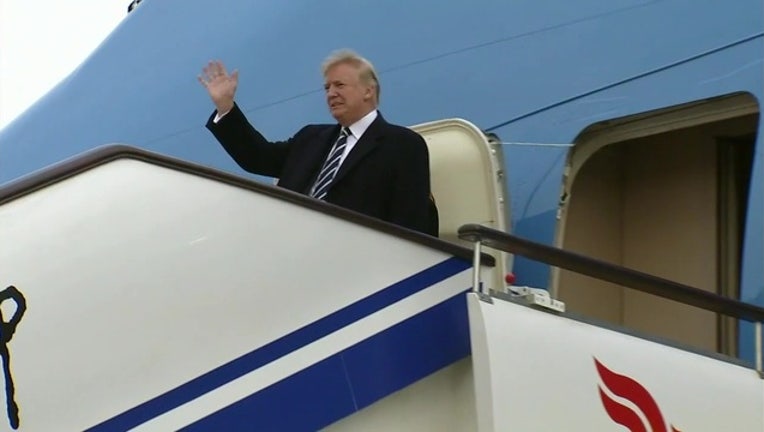 article
 Arabs and Muslims across a Middle East on edge warned on Wednesday that President Donald Trump's anticipated announcement recognizing Jerusalem as Israel's capital would inflame Muslim feelings worldwide and bring further chaos and instability to the region.
Criticism poured in from Tehran to Ankara to war-ravaged Syria, reflecting the anxiety ahead of the announcement which upends decades of U.S. policy and risks potentially violent protests.
U.S. officials say Trump will instruct the State Department to begin the multi-year process of moving the American Embassy from Tel Aviv to the holy city. Speaking on condition of anonymity Tuesday because they were not authorized to publicly preview Trump's announcement, the officials said they expected a broad statement from Trump about Jerusalem's status as the "capital of Israel."
Still, the declaration of Jerusalem as Israel's capital carries deep symbolic significance and could have dangerous consequences. The competing claims to east Jerusalem, the section of the city captured by Israel in 1967, have frequently boiled over into deadly violence over the years.
East Jerusalem is home to the city's most sensitive Jewish, Muslim and Christian holy sites, as well as its 330,000 Palestinian residents.
The United States has never endorsed the Jewish state's claim of sovereignty over any part of Jerusalem and has insisted its status be resolved through Israeli-Palestinian negotiation.
The mere consideration of Trump changing the status quo sparked a renewed U.S. security warning on Tuesday. America's consulate in Jerusalem ordered U.S. personnel and their families to avoid visiting Jerusalem's Old City or the West Bank, and urged American citizens in general to avoid places with increased police or military presence.
Trump, as a presidential candidate, repeatedly promised to move the U.S. Embassy. However, U.S. leaders have routinely and unceremoniously delayed such a move since President Bill Clinton signed a law in 1995 stipulating that the United States must relocate its diplomatic presence to Jerusalem unless the commander in chief issues a waiver on national security grounds.
Key national security advisers - including Secretary of State Rex Tillerson and Defense Secretary Jim Mattis - have urged caution, according to the officials, who said Trump has been receptive to some of their concerns.
Trump has spoken of his desire to broker a "deal of the century" that would end Israeli-Palestinian conflict.
U.S. officials, along with an outside adviser to the administration, said the president's speech was not aimed at resolving the conflict over Jerusalem.
He isn't planning to use the phrase "undivided capital," according to the officials. Such terminology is favored by Israeli officials and would imply Israel's sovereignty over east Jerusalem.
One official also said Trump would insist that issues of sovereignty and borders must be negotiated by Israel and the Palestinians. The official said Trump would call for Jordan to maintain its role as the legal guardian of Jerusalem's Muslim holy places, and reflect Israel and Palestinian wishes for a two-state peace solution.
Elsewhere, however, reactions were skeptical, especially across the Muslim world. Turkish Foreign Minister Mevlut Cavusoglu said the "whole world is against" Trump's move, and the supreme leader of Iran, Israel's staunchest enemy, condemned Trump.
The state TV's website quoted Ayatollah Ali Khamenei as saying that "the victory will ultimately be for the Islamic nation and Palestine."
Iran does not recognize Israel, and supports anti-Israeli militant groups like Lebanese Hezbollah and Palestinian Hamas.
___
Lee reported from Washington. Associated Press writers Aron Heller in Jerusalem, Karin Laub in Amman, Jordan; Josh Lederman in Brussels; Zeina Karem in Beirut; Nicole Winfield in Rome and Gillian Wong in Beijing contributed to this report.