Zeta strengthens to a hurricane, forecasted to make landfall on Wednesday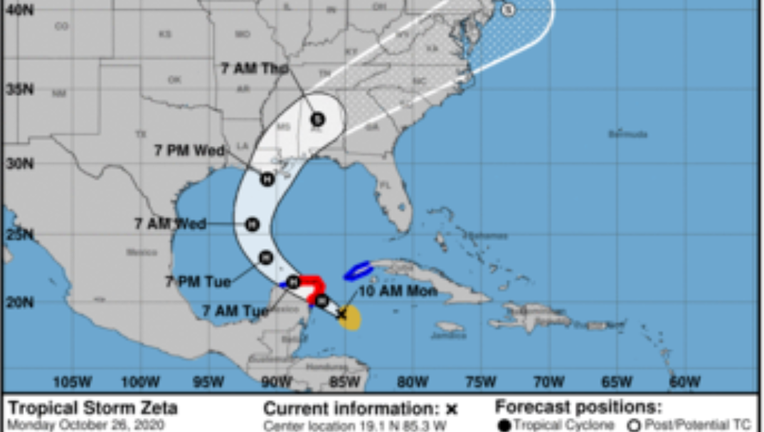 HOUSTON - Hurricane Zeta is making its way toward the Gulf of Mexico after forming in the Caribbean late Saturday afternoon. 
MORE TROPICAL WEATHER FORECASTS FROM FOX 26
As of the 2:10 p.m. Monday update, the National Hurricane Center said the storm is located about 260 miles southeast of Cozumel, Mexico.
Winds are currently at 80 miles per hour with stationary movement. 
The current cone of uncertainty does not include the Houston area, however, most of Louisiana, which has been devastated by at least two hurricanes, is in the current path.
The storm will begin to turn to the west-northwest and increase in forward speed on Monday.
The center of the storm will pass south of western Cuba early Monday and move near or over the northern Yucatan Peninsula or Yucatan Channel late Monday before moving into the southern Gulf of Mexico by late Tuesday. 
According to a Colorado State University hurricane researcher, it is the earliest named 27th Atlantic storm recorded.
CLICK HERE FOR YOUR HURRICANE QUICKLIST
The FOX 26 Weather Team is closely monitoring developments. They will continue to keep you up-to-date online, on-air, and on social media.
You can also stay up-to-date 24 hours a day by downloading the free FOX 26 weather app. You'll receive weather alerts for your location, along with video weather updates.