TikTok's Papa and Roscoe: Katy grandfather goes viral on TikTok after knee surgery
HOUSTON - One TikTok video with his adorable 4-month-old puppy turned a Katy grandfather into an overnight sensation.
81-year-old Walter Ross never knew anything about TikTok or how it worked until his grandson Mello Joseph, 28, uploaded a video of him and his new Chiweenie, Roscoe. 
Walter Ross and Roscoe came together in an unexpected circumstance. "My wife and I wasn't even expecting a puppy," Walter said. Their daughter's boyfriend's dog had puppies and offered the couple one. "It was like love at first sight."
VIRAL: Video: Two Houston men hit by car while inside coffee shop
Then one day, Joseph was helping his grandfather get around after his knee surgery and took a video of the pair just to share with family and friends.
"Originally, I just put it up on my Instagram story, just a clip of him and Roscoe," Joseph told me. "I was just getting so much feedback from there and I was like okay, let me put it on TikTok."
In the span of 24 hours, the video of the two took off receiving nearly 10 million views.
Users fell in love with Papa and Roscoe, asking for more videos of them and sharing how much they adore the 81-year-old and his precious pup.
"I see and I mean tons of comments from our followers, who've given nothing but great positive comments about what we have posted that really makes my day, that makes me feel real good," Ross said.
Ross recently received a complicated knee surgery and now must use a walker as a result of it. Through it all, he's happy to have Roscoe by his side through his recovery and shared some advice for those who might be going through something similar.
"To anyone who's suffering from arthritis or any kind of pains in their joints, knees and hips and whatever, you don't have to go through that suffering," Ross said. "You don't have to go through that anymore because the technology and the medical profession is so awesome these days."
Papa and Roscoe (Photo courtesy of Papa and Roscoe)
Ross says he has so much metal in his knees now and admits it was rough to start off. However, he wants people to know after the initial stage, its smooth sailing. 
He shared he's thankful for deciding to go through with the surgery. After his recovery period, he says he won't have to worry about the pains in his knees he used to have.
Plus, it helps to have a pet around the house like Roscoe to make the recovery process easier. "It's great company, you know, I love him. He's just like a, just like a biological member of our family," Ross shared.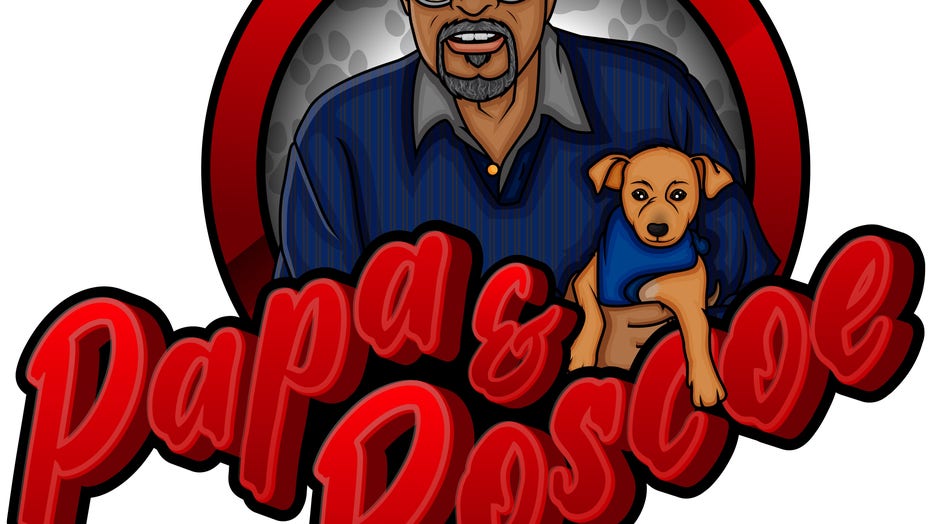 Papa & Roscoe logo (Photo courtesy of Papa and Roscoe)
In the meantime, Papa is grateful for the support he's been receiving on TikTok and doesn't plan on stopping any time soon.
"We say, well, let's keep it going. There's no point in stopping it," Ross said. He's also thankful to have his grandson there to help him through it all. 
SUGGESTED: California man breaks record for making 2,995 consecutive visits to Disneyland
"All the credit goes to him. I don't deserve any credit for the success of what we're doing because none of this was my idea," the grandfather admitted.
Though Joseph is in the process of moving to Austin, he stays committed to his efforts in helping his grandfather navigate his new social media popularity.
"It's been kind of a journey because I've been giving him different creation ideas of videos that they can make," Joseph shared. "I'm planning on visiting Houston either like once or twice a month. So I can help capture those moments."
RELATED: Latest TikTok challenge: The Kool-Aid Man becomes trend on social media platform
He added they're planning to continue making more videos giving words of advice and sharing updates about how Papa is doing after his knee surgery. "A lot of people are asking for updates throughout the weeks after the surgery, because either they're about to go through that type of surgery or they have a family member about to go do that surgery."
Either way, people can expect to see a lot more of Papa and Roscoe and they're both so happy about the warm reception they've been receiving.
"It makes my day. I love hearing that. Yeah, it, I mean it's really uplifting to know that people are enjoying something that you're involved in. And it just makes my day when whenever I hear people expressing positive sentiments about what we're doing," Ross said as he held up Roscoe in his arms.