SXSW 2019 kicks off the happy chaos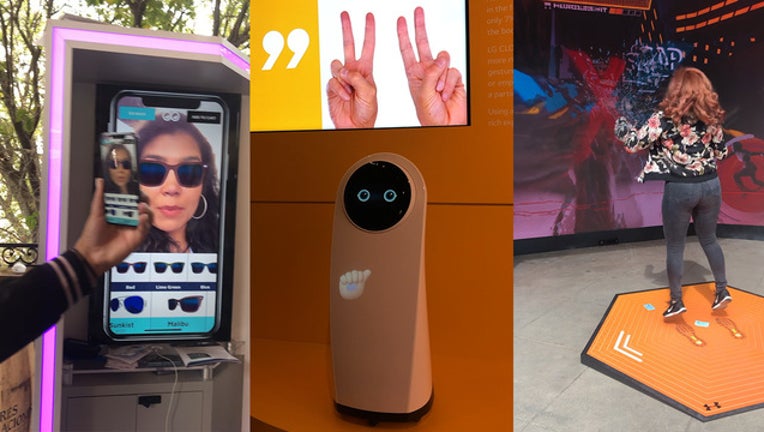 AUSTIN, Texas (FOX 26) — Robots, jump shots, deep fakes and Virtual Reality trips into outer space! That's just a snippet of what the hundreds of thousands of SXSW attendees get to experience in the ten days of the Austin conference, which kicked off on Friday.
After 33 years, the event just keeps getting bigger, with 400,000 people from all over the world joining together for one of the most influential gatherings of the year.
This year is featuring keynotes and sessions from Howard Schultz to A$AP Rocky, and conversations about America's future with politicians hoping to win the presidency in 2020.
Buzz Aldrin, the second man to set foot on the moon, is even hosting a VR experience to show off his plans for getting astronauts to Mars.
Many line up across downtown to see the latest in technology from Artificial Intelligence to Augmented Reality.
At the LG Inspiration Gallery, for example, visitors can see LG's latest concept robot line, LG CLOi. The bots are capable of recognizing human emotions, playing with pets and children, and making sure the home is safe and tidy.
SAP offers a more interactive experience, asking people to jump and lean to the left and right in front of a massive screen for all to see to determine which sneaker they would recommend. It works because they combine data analytics in real-time with the experiential performance. A prime way to experience the latest in technology as a consumer.
But it's not just about having fun and playing with the latest toys, it's also about people gathering together to learn, to showcase their work, and to help one another achieve the next big thing.
Or in the case of journalists, how to combat the next big thing: fake news.
One session showed the latest strategies and technologies news outlets can adopt to defend against AI-driven fake news videos like deep fakes or highly-edited videos that spread misinformation rapidly on social media when they go viral.
And beyond the Interactive, you can't forget the Film and Comedy portions of the conference, with the opening night film being director Jordan Peele's highly-anticipated "Us."
Next week, Music and Gaming will take the forefront with more people coming in just for that.
More information on SXSW events click here.