Suspicious person call at Spring Popeye's leads to officer-involved shooting
HOUSTON - A suspect has been injured in an officer-involved shooting in Spring. 
Authorities responded to a suspicious person call at the Popeye's Restaurant at Holzwarth and Cypresswood. 
Precinct 4 deputies arrived and questioned the man, who ran to Home Depot and then to LA fitness with officers in pursuit. Meanwhile, an off-duty HPD officer and his wife were in the gym and assisted with the chase.
The suspect also tried carjacking several people in their cars as he ran from authorities, according to investigators.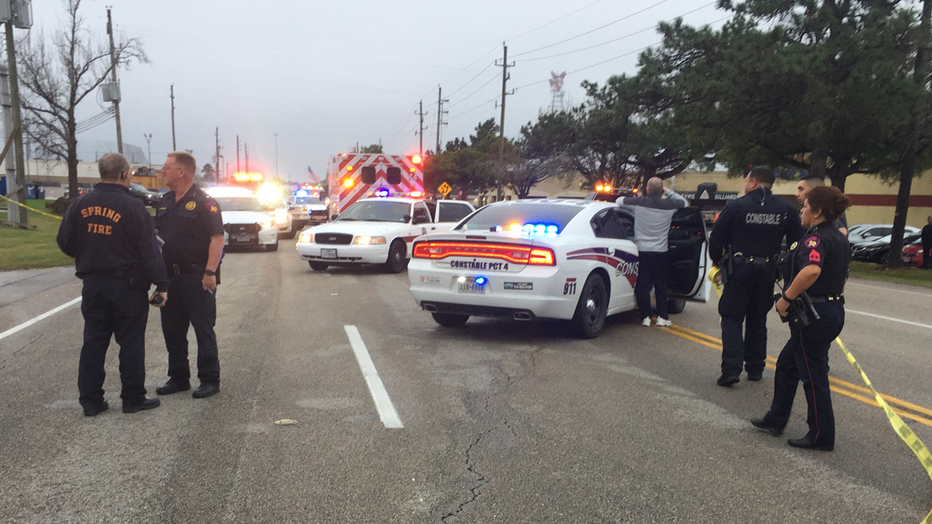 At one point the pursuit led to the back of the LA Fitness nearby and the constable and HPD commander confronted the suspect. The suspect turned on both of the individuals and started threatening them with a knife. The deputy and HPD officer shot the suspect multiple times. The suspect was transported to the hospital where he is in stable condition and expected to survive. 
Harris County Sheriff's will be conducting the criminal investigation with a parallel with the special investigations unit and internal affairs unit. 
The HPD officer was not injured. The deputy sustained an injury to the wrist from a fall during the chase.
Both the deputy and the HPD commander will be placed on administrative leave pending the investigation.