Murder suspect fatally shot in north Harris Co. during arrest attempt: authorities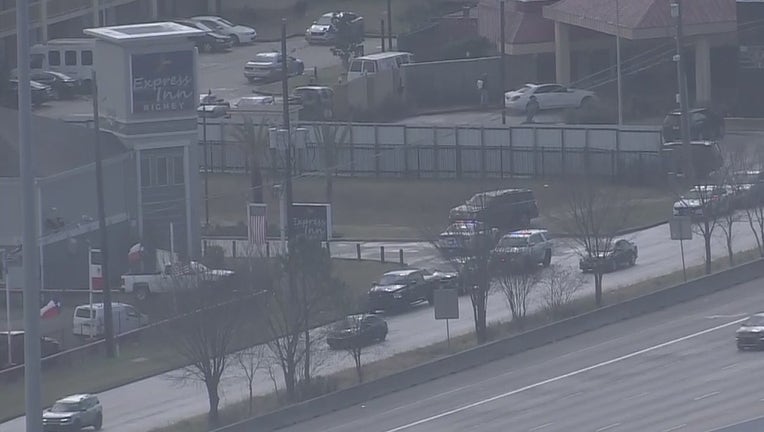 An 18-year-old murder suspect was fatally shot in north Harris County as members of the Gulf Coast Violent Offenders Task Force attempted to take him into custody on Wednesday morning, authorities say.
The shooting occurred in the parking lot of a motel in the 16600 block of the North Freeway near North Vista Drive.
SIGN UP FOR FOX 26 HOUSTON EMAIL ALERTS
The Pasadena Police Department says Luis Alberto Rodriguez Jr. was wanted for bond forfeiture for a homicide that occurred in Houston last year.
Police say officers with the Pasadena Police Department and the U.S. Marshals Service had gone to the motel, where the suspect was staying, to serve the arrest warrant.
According to Pasadena Police Chief Josh Bruegger, officers encountered the suspect in the parking lot.
"As officers approached the suspect, he did not obey verbal commands, began to raise his shirt. He had two handguns in his waistband. Began reaching for the handguns, at which time two law enforcement officers discharged their weapons multiple times striking the suspect, who's deceased here on the scene," Chief Bruegger said.
Authorities say a Pasadena police officer and a member of the U.S. Marshals discharged their weapons.
Chief Bruegger says both officers were wearing identifiable law enforcement vests and verbally identified themselves.
FOR THE LATEST NEWS UPDATES, DOWNLOAD THE FOX 26 NEWS APP
Now officers were injured. The law officers who fired their weapons will be placed on administrative leave for a few days, as is protocol.
The Harris County Sheriff's Office will conduct the criminal investigation and the Harris County District Attorney's Office will conduct a parallel investigation. The Pasadena Police Department Internal Affairs will also conduct an investigation.