Shoe salesman goes above and beyond for young customer with autism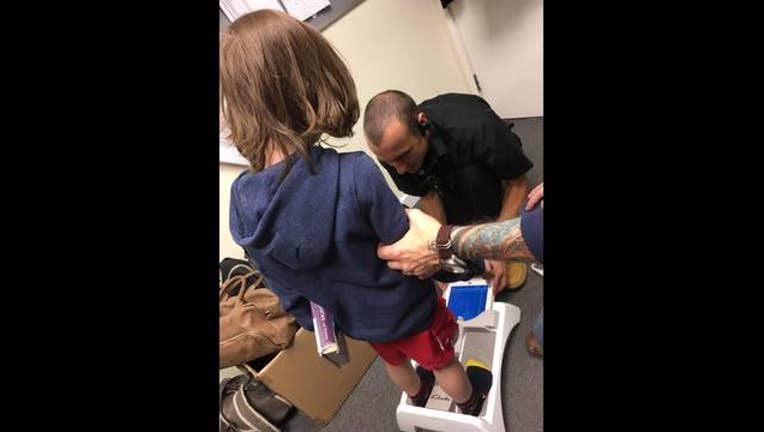 article
SOMERSET COUNTY, England (KTVU) - "Autism acceptance at its best." That's how Gem Salter described her experience at a shoe store where her six-year-old autistic son was treated with extra special care by a salesman who went out of his way for his young customer.
Salter said her son, River, has a difficult time with crowds, long lines, and noisy environments.
So when they arrived at a Clarks Shoes store in Somerset County, England and the place was packed and busy, she said, "I knew there was no way he would cope with that environment."
Salter went on to explain her situation and her son's condition to a salesman Aaran Daniels.
What happened next, moved the mother to share the story on Facebook.
"Without hesitation, Aaran led us away from the noise and crowds to a staff room and placed a Do Not Disturb sign on the door. He was very patient with River, who was anxious, and went and got lots of different shoes for him to try on."
Salter's post has received more than 40,000 shares and some 6.7K comments, including one from another mother who shared a similar story involving the same salesman.
Samm Gee said she recently brought her daughter, who has Down Syndrome, into the store for a pair of shoes and said Aaran really helped them with kindness and patience. 
Gee described the salesman as "A lovely guy & a credit to the store."
Salter ended her post describing her son as "a very happy boy" who had a great pair of shoes.
She extended a big thanks to the store and to Aaran, who offered to continue the special service the next time River needed a new pair of shoes.
"Aaran also gave us the store number and said they'd happily book us an appointment before the store opens so that it's quiet." wrote Salter.