Senators recall McCain as 'a treasure' and 'happy warrior'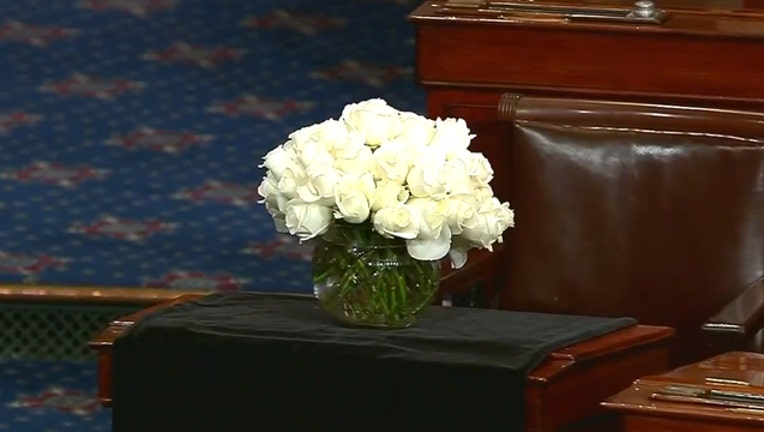 article
WASHINGTON (AP) - Sen. Joe Manchin stepped between John McCain's desk and empty chair and looked down at the white roses topping the black fabric draped across it. In one quick movement, he crossed himself, kissed his fingers and touched them to the cloth.
As the Senate churned though what business it could on Tuesday, McCain's death sat very much at the center of proceedings and at the front of his colleagues' minds. Only four of them know a Senate without McCain, who was elected in 1986 and had become a mentor and moral compass to newcomers. He also had a legendary wit and temper that made learning from and working with him complicated, according to some of the tributes.
McCain had been absent from the Senate since December, fighting brain cancer. But his death at home in Arizona on Saturday has changed the atmosphere as the U.S. Capitol prepares for him to lie in state under the rotunda on Friday. Again and again, senators took note of McCain's absence, now permanent. Republican Susan Collins of Maine, Republican Tim Scott of South Carolina and Manchin, a West Virginia Democrat, gathered in a tight circle around McCain's spot and admired the roses.
"When you walk by Sen. McCain's desk and you see the black drape and the bowl of white roses, it really underscores the loss," said Sen. Bill Nelson, D-Fla.
McCain's funeral procession will begin Wednesday in Phoenix, where he'll lie in state at the state Capitol. Services will be held on Thursday. He arrives back in Washington on Friday to lie in state under the rotunda for public viewing and a formal ceremony. His casket will then pass the Vietnam Veterans Memorial and be moved to Washington National Cathedral for a service expected to include remarks by former Presidents Barack Obama and President George W. Bush.
People close to the McCain family and President Donald Trump said the family had asked the president to stay away. Trump announced Monday that he would send others to represent his administration.
On Tuesday, members of the Senate seemed to be trying to grapple with the fact that McCain is gone - by remembering him as they saw him. A Vietnam War veteran who served more than five years as a prisoner of war. An expert on veterans and the armed forces, Russia, immigration and campaign finance reform.
"John was both a romantic and a cynic ... in love with and passionate about the causes he fought for, yet clear-eyed about the long odds he often faced in a world hostile to our ideals," said Sen. Chris Coons, D-Del., recalling trips around the world with a senator whose scope of experience was unmatched among policymakers.
The Arizona senator had indeed "peeled the paint off the wall behind me with a fiery stream of profanity-laced invective," but he almost always apologized. McCain, Coons said, "was a treasure and a challenge."
Utah Sen. Orrin Hatch, the most senior Republican in the Senate, said McCain was a "happy warrior."
"John came to embody the very pinnacle of American virtue. Courage, commitment, integrity, and sacrifice: These are the precepts he lived by and by which he will always be remembered," Hatch said.
Alluding to Trump's refusal to call McCain a hero, Hatch added, "No one is more worthy of the word 'hero' than John McCain."