Savannah Bananas visit Texas Children's Hospital during their stop in Sugar Land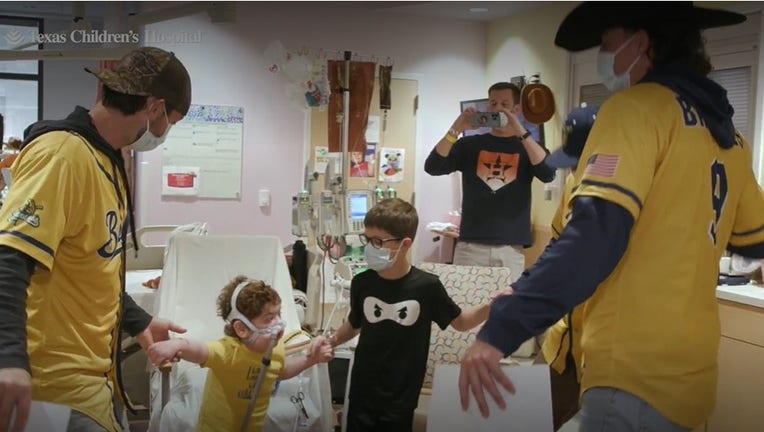 article
HOUSTON - You may have seen the Savannah Bananas all over social media busting out dance moves and having some fun on the baseball diamond, but patients at Texas Children's Hospital got to experience some of that fun from the Bananas themselves.
The team is in the Houston area as part of their Banana Ball Tour and play a three-game series in Sugar Land which started on Thursday evening at Constellation Field.
SAVANNAH BANANAS: Savannah Bananas lose to Party Animals in sold-out game in Sugar Land
The Bananas visited some of the children in their rooms. They even stopped by to see 4-year-old Oliver Blankenship, who is a baseball fan and whose favorite color happens to be yellow. But overall, the Savannah Bananas Catcher, Bill LeRoy said he was just blessed to be there 
"Oliver was in there dancing around and loved the color yellow. And Andrew was a fast car lover, as well as Noah was, so we got to connect on a lot of cool things, and uh just getting to see the smile on their face and hopefully brighten their day just a little bit more."
ADORABLE!: Tiny tots at Texas Children's Hospital NICU celebrate first rodeo with western-gear photoshoot
The players showed off some of their best tricks and dance moves with the kids and also took some time to play games with them in the Child Life Zone part of the hospital.
Savannah Bananas with Kazz Barthelemy (Credit to Texas Children's Hospital)
"We try to create joy each night at the ball field and being able to do that off the field as well," LeRoy added. "And to come here to the hospital and meet these kiddos and let them enjoy some of the same things we get to enjoy is kinda our goal and I hope we can come back and do it again many more times."