Person of interest identified in death of Houston police sergeant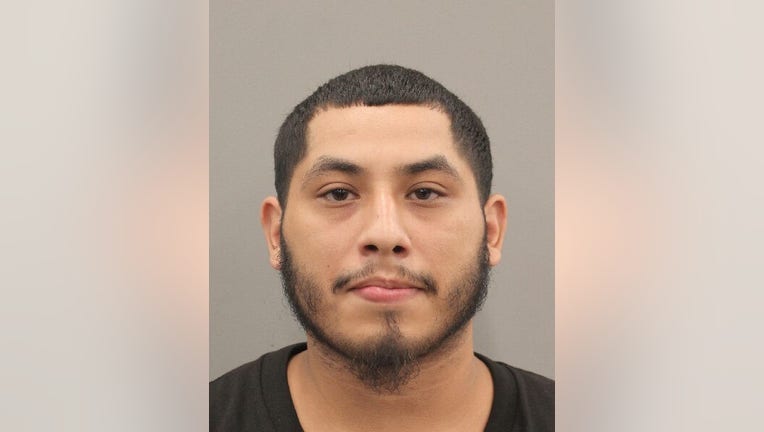 article
HOUSTON - Houston police have learned the identity of the person of interest in the death of HPD Sgt. Sean Rios.
Police are searching for Jason Frank Vazquez, so they can bring him in for questioning in connection to the deadly shooting that happened Monday, Nov. 9 in the 7900 block of the North Freeway.
HPD had released a surveillance video of Vazquez, 24, on the same day they arrested suspect Robert Soliz, who is charged with the murder of Sgt. Rios.
Police say Vazquez was seen driving a black Chevrolet pickup truck and speaking with Soliz after the shooting.
According to Harris County District Attorney records, Vazquez was out on bond for two DUIs. 
Below is a track record of his criminal history: 
2015 – He spent 8 days in Harris Co Jail for a trespassing charge – plead guilty
2017 – He spent 2 days in Harris Co Jail for possession of drug charge – plead guilty
Sept 1. 2019 – DWI Charge – Judge Daryl Jordan gave him a general order bond
Sept. 29, 2019 --  2ND DWI Charge – At that point, the DA's office made a motion for bond conditions (including ignition interlock and random urine samples)
He was granted a PR Bond
Oct. 28, 2019 – Violation of Bond conditions – defendant failed to provide proof of device and said he couldn't afford one….he also said he didn't know about random urinalysis
Nov. 3, 2019 -   Violated Bond Again – Using controlled substance:  Tested positive for alcohol and cocaine
Nov. 3, 2019   - Court Revoked his Bond
Feb. 19, 2020 – Court Revoked his Bond
Investigators are asking anyone who may have seen or heard anything between the 3900 and 7900 blocks of the North Freeway, north of North Interstate Highway 610 and south of Gulf Bank Road, or know the whereabouts of the person of interest, Jason Frank Vazquez, to contact the HPD Special Investigations Unit at 713-308-3600 or Crime Stoppers at 713-222-TIPS.
Sgt. Rios, who leaves behind a wife and four children, was shot and killed in north Houston last week during a "gun battle" outside a motel.
The 25-year HPD veteran made it inside the Taj Inn Suites to ask for emergency help before collapsing.