'My heart is broken': Drake issues statement after Astroworld Festival tragedy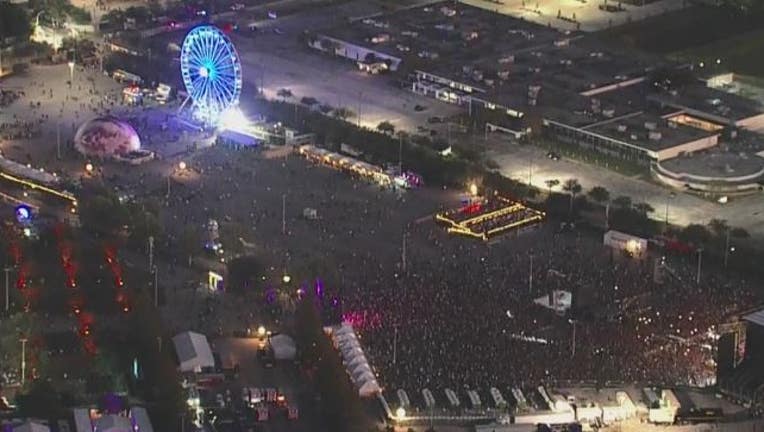 HOUSTON - Rapper Drake has released his first public reaction to the deadly incident at the Astroworld Festival on Friday after joining Travis Scott on-stage during his set that night.
Drake shared the message to his Instagram account on Monday night.
RELATED: Astroworld 2021 event operations plan didn't mention what to do if there was a crowd surge situation
"I've spent the past few days trying to wrap my mind around this devastating tragedy," the message says. "I hate resorting to this platform to express an emotion as delicate as grief but this is where I find myself. My heart is broken for the families and friends of those who lost their lives and for anyone who is suffering. I will continue to pray for all of them, and will be of service in any way I can. May God be with you."
Officials say roughly 50,000 people attended the music festival in Houston. Eight people died and six people remain hospitalized, authorities say.
THE VICTIMS: What we know about the 8 lives lost in the Astroworld tragedy
Law enforcement officials say they're working diligently to find out what went wrong Friday night during a performance by Scott.
According to some attendees, the tragedy unfolded when the crowd rushed the stage, where people were squished together to the point, where it was hard to breathe. Although, some also speculate drugs may have also played a factor.
RELATED: Survivors of the Astroworld Festival tragedy tell their stories, 'It was very bad'
Houston Police Chief Troy Finner said he met with Scott and his head of security for a few moments on Friday before the rapper performed and expressed his concerns regarding public safety. The police chief on Monday described the meeting as brief and respectful but did not elaborate on any specific safety concerns at the Astroworld Festival. 
As Travis Scott prepared to take the stage around 9 p.m. Friday, the crowd grew rowdier.
According to Houston Fire Chief Sam Pena, site patrol determined around 9:15 p.m that the event was escalating, and called for backup. About 15 minutes later, around 9:30 p.m., a mass casualty incident was declared. Additional fire units and ambulances were then dispatched to NRG Park to help.
MORE: HPD: Criminal investigation into Astroworld Festival 'ongoing'
"When people started becoming unconscious, the reports of overdoses, cardiac arrests; at that point, it seemed to me they were quickly overwhelmed and our units stepped in to fill that gap," Pena said.
Pena estimates 25 people were initially transported to the hospital Friday.
RELATED: 'Absolutely insane,' ICU nurse attending Astroworld Festival tells FOX 26 what she saw
"We administered lots of Narcan. It doesn't mean that they were all overdosed, Narcan is something we give to patients that we don't know the cause of why they're unconscious," Pena said. 
The victims' causes of death have not been released.
FOX News confirmed that Scott is covering the victims' funeral expenses and is offering therapy to festival attendees.
RELATED: Travis Scott, Live Nation face more than a dozen lawsuits over deadly Astroworld event