Mom, infant become 1st fatalities of Hurricane Florence after tree falls on North Carolina home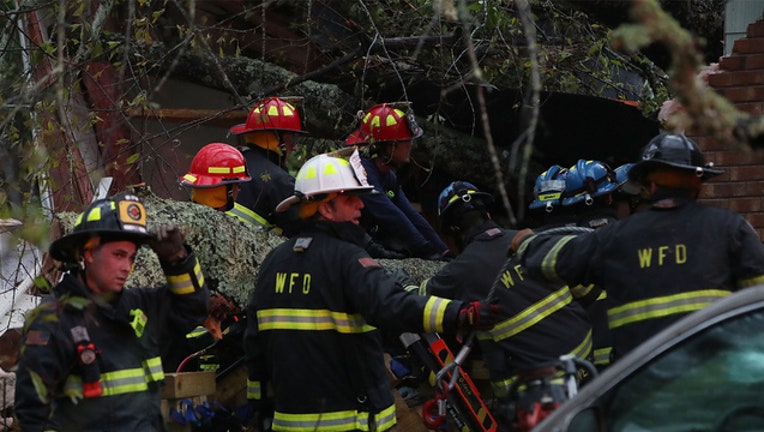 article
WILMINGTON, N.C. (AP) — Hurricane Florence is being blamed for taking several lives in North Carolina, including that of a woman and infant child who were killed when a massive tree crashed through their modest brick home early Friday. A man electrocuted while plugging in a generator during a heavy rain and another knocked down by wind were among the other casualties reported from the monster storm lashing the Southeast.
The tree's massive size required special equipment from rescuers also battling whipping winds and pelting rain to extricate them. Wilmington Deputy Fire Chief Steve Mason said the victims died at the scene.
"The size of the tree is not something you could simply cut with a chainsaw and remove and then quickly extricate," he said. "It required a tremendous amount of heavy lifting, airbags and saws."
Neighbor Adam Sparks said he noticed emergency responders arrive at the house across the street right around when his power went out and the storm was intensifying.
"It went from zero to 100 real quick," he said. "Really all you could do is stay inside and hope for the best."
RELATED: Florence grounds more than 2,100 flights
At first he thought the firefighters were there to help restore electricity, but when he saw police and paramedics arrive he knew it was something much more tragic.
He said he didn't know the family well but that the couple had multiple young children.
"It was very sad, very tragic. ... I couldn't even imagine," he said.
RELATED: North Carolina TV station evacuates newsroom in flooded city
In Kinston, more than an hour's drive inland from the coast, Lenoir County spokesman Bryan Hanks said a man was electrocuted as he attempted to connect extension cords outside in the rain. The body of the 78-year-old man was discovered by family members Friday morning. Gov. Roy Cooper's office said he died while plugging in a generator. Hanks said a fourth person died while checking on his hunting dogs, and authorities believe he was blown over by the wind.
Emergency officials warned residents that the peril had probably not passed, as the storm continued to dump torrential rain.
In Wilmington, the storm tore down numerous trees when its center tore through the area Friday morning. Later in the day, trees could be seen on top of roofs, driveways and parked cars.
In the neighborhood where the mother and child died, resident Frank Hendrickson pointed to a tree that fell next door to him but spared a neighbor's house. He said it was a testament to the close calls around the city. He said he had trimmed his own trees before the storm.
While he didn't know the family at the center of the tragedy, it was devastating for him to see bereaved relatives coming to the house after they heard what happened.
"Seeing them get out of the car and seeing their emotions was heartbreaking," he said. "A little infant dying in the middle of the night while they were sleeping. ... It doesn't get any worse."
___
Associated Press writers Gary D. Robertson in Raleigh and Alan Suderman in Richmond, Virginia, contributed to this report.
___
Follow Drew at www.twitter.com/JonathanLDrew