LEADING OFF: Astros' Bregman stirs up ALCS for Game 3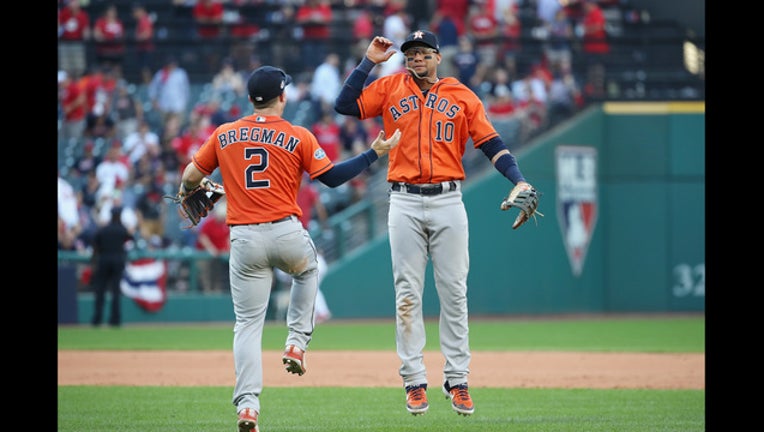 article
HOUSTON, TX - A look at what's happening around the majors today:
NO BOTHER
Red Sox manager Alex Cora is brushing off the notion that Boston might be motivated for Game 3 of the AL Championship Series by a brazen social media post Monday from Astros star Alex Bregman. Houston's third baseman shared a video on Instagram of his club hitting back-to-back-to-back home runs off Red Sox starter Nathan Eovaldi during a game in June captioned "lil pregame video work." Eovaldi was with Tampa Bay at the time and allowed a career-high four homers in a 5-1 loss. Eovaldi will oppose Dallas Keuchel as the series shifts to Houston.
Astros manager AJ Hinch had no issue with the online barb but implored Bregman to "go out and back it up." Eovaldi didn't seem bothered by the video, saying he doesn't have social media, and Cora dismissed the idea that the post will give the Red Sox any added push.
"If you need motivation in Game 3 of the ALCS, you better check yourself," he said. "Because you win three more games, you go to the show, and that's what should motivate you. Alex has different ways of motivating himself. And whatever. I'll leave it at that."
DODGER BLUES
Austin Barnes is subbing into the Dodgers' lineup at catcher in place of struggling Yasmani Grandal for Game 4 of the NL Championship Series. Los Angeles fans were chanting "We want Austin!" during a 4-0 Game 3 loss Monday night, and that was before Grandal struck out on three pitches with the bases loaded in the ninth. Grandal dropped to 3 for 22 in the playoffs with 10 strikeouts and also committed his third passed ball of the series.
The Dodgers' offensive woes aren't just about Grandal. The club went 0 for 10 with runners in scoring position, struck out 14 times and had just five hits Monday against Jhoulys Chacin and Milwaukee's bullpen. Even worse for LA, the Brewers only needed shutdown lefty Josh Hader for eight pitches and two outs, meaning the All-Star could be available for manager Craig Counsell again Tuesday.
HEALING UP
Chris Sale is expected to rejoin Boston in time for Game 3 after an overnight stay in a hospital in Boston because of a stomach illness. Boston said it planned to wait until he rejoins the team in Houston before deciding when the lanky lefty will get back on the mound. Sale was released Monday from Massachusetts General Hospital, where he had gone because of a stomach illness after he pitched in the series opener at Fenway Park. He was hospitalized Sunday night for observation and did not travel with the team to Houston.
"Everything's fine," manager Alex Cora said Monday night. "So we'll see how he feels physically, and then after that we'll decide what we're going to do."
RANGER RESEARCH
The Rangers have conducted interviews with a half-dozen candidates in their search for a manager after speaking with Rocco Baldelli and David Bell on Monday, according to people familiar with the details. Baldelli is the major league field coordinator for the Tampa Bay Rays. Bell is vice president of player development for the San Francisco Giants and the son of former Rangers third baseman Buddy Bell.
Texas is looking to replace Jeff Banister, who was fired with 10 games left the team's second consecutive losing season.
Of the candidates interviewed so far, former New York Yankees and Florida Marlins manager Joe Girardi is the only one with major league managerial experience.
___
ALCS CHAMPIONSHIP GAMES FOR ASTROS/RED SOX: 
Game 3---Tuesday, Oct. 16. in Houston at 4:09 p.m.
Game 4---Wednesday, Oct. 17 in Houston at 7:39 p.m.
Game 5 if necessary---Thursday, Oct. 18 in Houston at 7:09 p.m. 
Game 6 if necessary---Saturday, Oct. 20 in Boston at 4:09 p.m.
Game 7 if necessary--- Sunday, Oct. 21 in Boston at 6:39 p.m
More AP MLB: https://apnews.com/tag/MLB and https://twitter.com/AP_Sports