Lawsuit: Ex-MSU athlete drugged, raped and became pregnant by Nassar, then-AD covered it up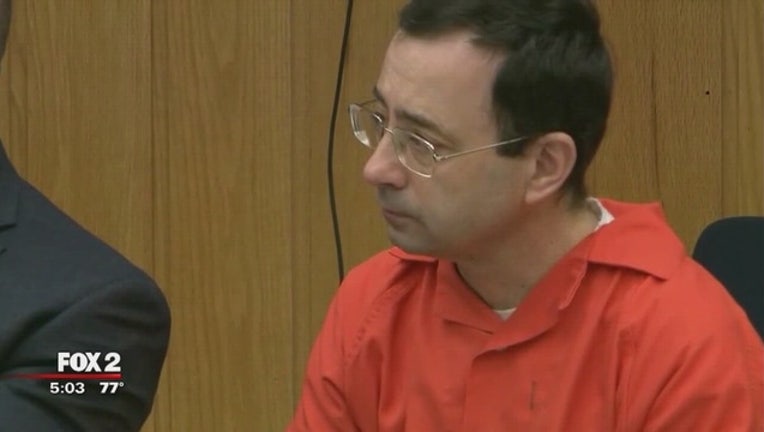 article
(WJBK) - A woman has filed a lawsuit claiming that she was raped by Larry Nassar in 1992 and became pregnant, and that the then-athletic director covered it up while Michigan State University police refused to investigate.
The lawsuit was filed against several defendants, including Michigan State University, USA Gymnastics, Larry Nassar, The MSU Board of Trustees, Kathie Klages, William Strampel and Twistars. A woman claims she was raped by Nassar under the guise of medical treatment and later became pregnant in 1992. The suit claims then-Athletic Director George Perles, who is now a member of the MSU Board of Trustees, was aware of the assault and covered it up, and campus police wouldn't pursue it.
Nassar sentenced to 40-175 years in prison
The lawsuit was among dozens filed to meet a Monday deadline for legal claims against Michigan State, although the complaint might be too old to qualify for a share of $75 million set aside by the university for victims who aren't part of a larger $425 million settlement.
Nassar, 55, became a sports doctor at MSU and for elite U.S. gymnasts but now is in prison for child pornography crimes and molesting female athletes with his hands.
Judge denies Larry Nassar's request for new sentence
In 1992, the 17-year-old woman was playing field hockey at MSU on NCAA scholarship when she injured her knee, according to the documents. As many women said during Nassar's sentencing, the medical doctor came highly recommended to the plaintiff as a renowned physician who was well-respected in the sports medicine community.
During an appointment that was video taped, the lawsuit states Nassar crushed up a pill and had the plaintiff drink it. She became very woozy and had trouble keeping her eyes open. When she became less woozy, the documents say she witnessed Nassar raping her. After she left, she experienced serious pain from her genitals.
Dozens of Nassar victims urge Michigan State board to fire Engler
According to the lawsuit, the woman reported the incident to her coach, who confronted Nassar in May of 1992 and demanded to see the video. The coach told Perles, who intervened, and the complaint was dropped. The coach was forced to return the video, resign and sign a non-disclosure agreement, according to the lawsuit.
Later in the summer, the plaintiff took a pregnancy test with her "dorm mom" Cheryl and tested positive, the documents state. She said the only way she could be pregnant is through the incident with Nassar, and Cheryl encouraged her to go to the police.
MSU to payout Nassar survivors based on seriousness, length of abuse
The lawsuit states the woman had a miscarriage a few weeks later. She reported she had been raped in October 1992 to the MSU police department, who told her because she was an athlete, the matter had to be handled by the athletic department, the document state.
According to the lawsuit, she was told Perles is a "powerful man," and she should drop the issue. hHe lost her field hockey scholarship shortly after. 
Lawmakers raise concerns with Nassar survivors' sex abuse bill proposals
The lawsuit says she was a sexually inexperienced teen who had no way of knowing what was happening tro her, and that she was pressured not to report the incident and that she would lose her scholarship.
The woman says she began to realize what had happened to her when other survivors came forward and she saw a video of herself being examined by Nassar on the news. As a result of the abuse, the lawsuit says the plaintiff suffers from depression, anxiety and even attempted suicide in 1993.
Engler reflects on progress at MSU amid Larry Nassar fallout
Because of her trauma, she says she avoided gynecological exams for years and when she was finally persuaded to get checked, she was told she had HPV, which caused her cervical cancer.
MSU police Chief Jim Dunlap said it's "nonsense" that the department would have refused to investigate because Perles or the athletic department was involved.
"It just doesn't happen. We just don't do things that way," said Dunlap, who was in the police department in 1992 but not the chief.
Merrily Dean Baker, who was athletic director after Perles, said she had "absolutely no knowledge" of the rape allegation at that time.
"I just think if this incident had been reported to the athletic department right before I started, I would have heard something about it," Baker told the Lansing State Journal.
The Associated Press contributed to this report.