Jimmy John's offering $1 subs Thursday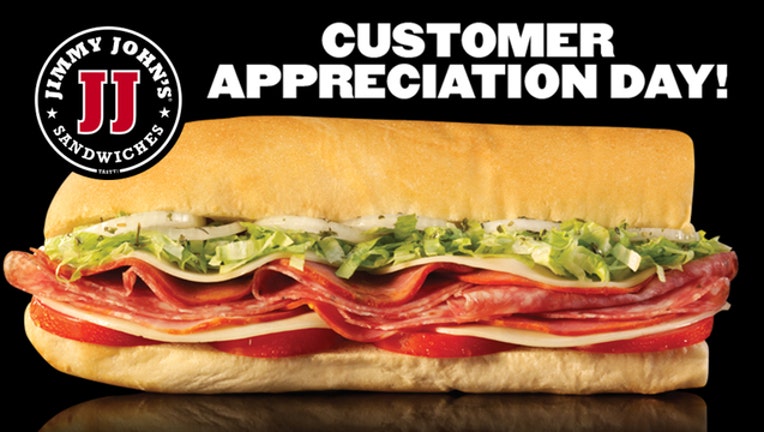 article
(FOX 26) - Select locations are selling those freaky fast subs for $1 April 21. The deal is good from 11 a.m. until 3 p.m. and many Houston-area locations are included.
The Jimmy John's website has a full list of restaurants offering $1 subs for customer appreciation day.
The Houston locations are listed below. 
1120 Eldridge Parkway Suite 190 Houston TX 77079
820 Main St. Houston TX 77002
3231 Southwest Freeway Houston TX 77027
2401 W. Holcombe Blvd. Houston TX 77030
5161 San Felipe St. Houston TX 77056
5727 Westheimer Houston TX 77057
10535 Westheimer Rd Ste. 102 Houston TX 77042
1270 Fry Rd. Houston TX 77084
9778 Katy Freeway Houston TX 77055
174 Yale St. Ste. 400 Houston TX 77007
4407A Cypress Creek Pkwy Houston TX 77068
4701 Calhoun Rd. Ste. 110 Houston TX 77004
1106 Silber Rd. Ste. A-1 Houston TX 77055
500 Dallas St. Ste. T-05 Houston TX 77002
12303 Westheimer Rd. Ste. K Houston TX 77077
2505 Bagby St. Houston TX 77006
12161 Katy Freeway Houston TX 77079
6001 Hillcroft St. Ste. 300 Houston TX 77081
14550 Westheimer Rd. Ste. 100 Houston TX 77077
12124 Greenspoint Dr. Houston TX 77060
10504 Broadway St. Ste. 104 Pearland TX 77584