'It's heartbreaking:' Turks, Syrians in Houston react to the devastating earthquakes
HOUSTON - Many Turks who live in Houston are doing what they can to help their native land recover from the devastating earthquakes. 
A truck was being filled with blankets, winter clothes, baby items, and non-perishable foods at the Turkish Consulate General on Westheimer Tuesday. 
CONTINUING COVERAGE: Race to find survivors as earthquake toll tops 7,000
Consulate General Serhad Varli's office tells FOX 26, donations can be dropped off every day from 9 a.m. to 9 p.m. Those items are then sent to Turkey via Turkish Airlines. You can find more details about what can be donated here.
People from different nationalities were also dropping off donations and plan on bringing more this week. 
"It's just sad what's going on over there," says Amal Ragheb. "We have stuff over here, and they're willing to transfer everything, so we can help." 
Mustafa Ozsoy, the owner of Pasha Restaurant in the Rice Village area, says it's been heartbreaking to see the updates from home. He's from an area of West Turkey that was spared from the earthquakes, but has many family members and friends in some of the 10 cities that were impacted. 
"Emotionally, it is hard." says Ozsoy. "As a human being, it doesn't matter whether I am Turkish or not. Many of my family members are fine, but we have friends are like family there. Some of them cannot reach others. They already got the bad news some of them are dead." 
Ozsoy points out the difficulties rescue crews are experiencing - the outdated infrastructure presented more problems for teams to get to those trapped in the rubble. 
"They have loved ones underground, it's cold, snowing…they can hear them. They can talk to them. Some of their phones still work. They can communicate with them. It is amazing. The problem is they don't have enough provisions around them. When it gets dark, you are on your own," says Ozsoy. 
Despite the difficulties, Ozsoy is pleased to see the number of people willing to help his native land recover from the destruction. 
"This is humanity. We need to unite. Maybe we can all put aside all political differences, and religion…maybe the catastrophe can turn into peace. I don't know. That's what I'm hoping."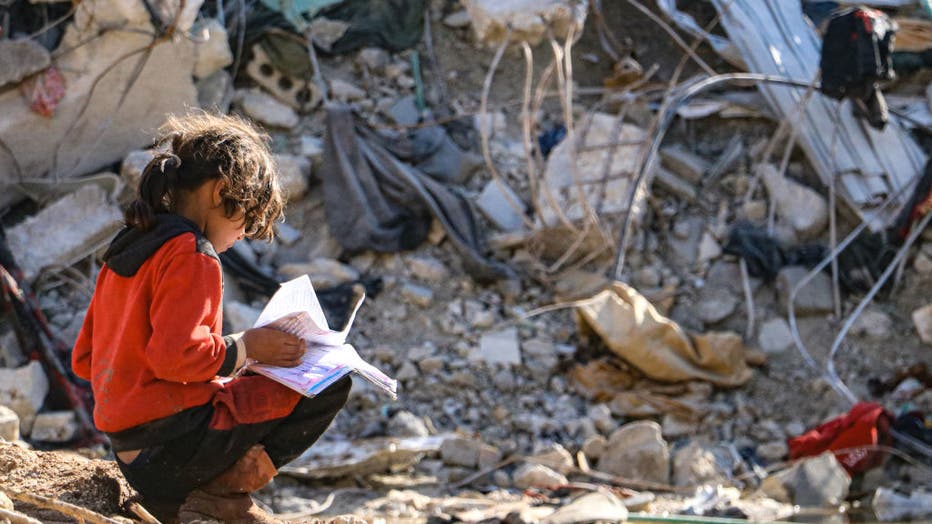 CINDERES, SYRIA - FEBRUARY 7: Collapsed building following an earthquake on February 7, 2023 in Afrin, Cinderes, Syria. A 7.8-magnitude earthquake hit near Gaziantep, Turkey, in the early hours of Monday, followed by another 7.5-magnitude tremor just
The Syrian American Club released this statement via Facebook Monday: 
Dear Members and Friends,
Early on Monday, February 6, 2023, a devastating 7.8 magnitude earthquake struck southeast Turkey and northern Syria. A few hours later it was followed by a second 7.5 magnitude earthquake. More than 3,700 people have been killed and the toll is expected to rise. The earthquakes resulted in extensive damage and trapped families under mountains of wreckage.
As families search for their loved ones, we must come together to support them. We, thus, encourage you to multiply the impact of your gift by giving to the Disaster Relief Fund at the Center for Arab American Philanthropy (CAAP), where 100% of your donation, with an additional 50 cents to the dollar match, will be granted to your choice of:
Syrian American Medical Society (SAMS), which is on the ground in Syria, delivering a comprehensive emergency response to save lives, and/or Oxfam America, who is assessing the needs on the ground in Syria and Turkey and will provide protection, water and sanitation, shelter and food support, as well as long-term rehabilitation and reconstruction as needed.
Alternatively, and if you prefer, you may send your donation to our "Earthquake Relief Fund" via the Syrian American Club's Donation Page, and we will forward your donation to 501(c)3 organizations that operate in the affected areas.
Thank you for caring and for your support.
The Syrian American Club