Houston Tornado: What is a Tornado Emergency? Why was it issued on Tuesday?
HOUSTON - On Tuesday, severe storms barreled through southeast Texas. A rare, first-ever local occurrence of a Tornado Emergency was issued by the National Weather Service (NWS) Houston. 
WHAT HAPPENED? EF2 storm damage from Tuesday storms confirmed in Southeast Houston
What made it an emergency? This elevated tornado warning is only issued when "catastrophic damage or severe threat to human life is imminent or ongoing by a reliably confirmed tornado." 
CAUGHT ON VIDEO: Severe flooding, heavy rain and tornado damage across the Houston-area
This typically means a large and/or long-lived tornado, moving through heavily populated areas.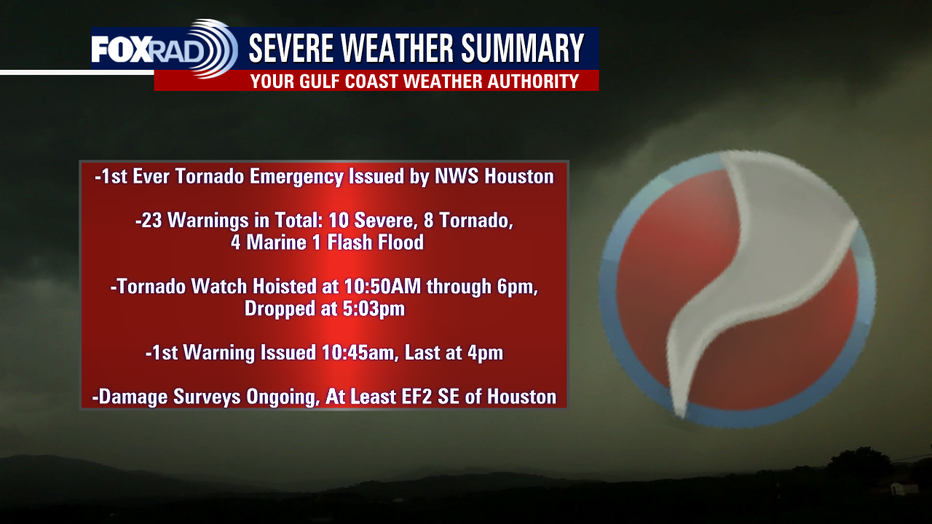 The first warning of the day went out at 10:45 a.m. It was a severe thunderstorm warning southwest of town. Minutes later, a Tornado Watch was hoisted area-wide at 10:50 a.m. initially in effect through 6 p.m. 
KNOW THE DIFFERENCE: Tornado warning vs. Tornado watch; breaking down the difference
The last warning went out at 4 p.m. with storms hauling at a whopping 50-60 mph, quickly clearing the coast and the watch ended up being dropped at 5:03 p.m.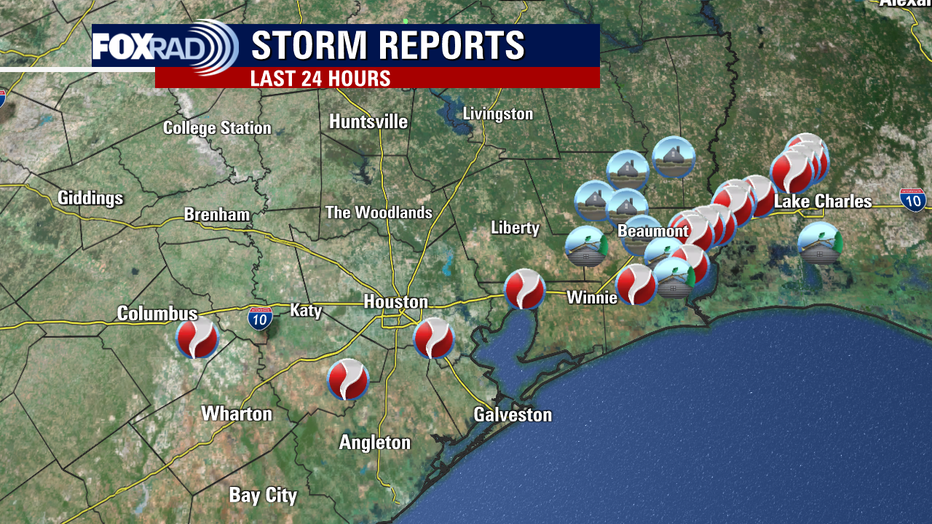 While damage surveys are still ongoing, as of 8:43 a.m. on Wednesday, January 25, the NWS Houston office confirmed at least EF2 damage from the storm that ripped through the southeast side of town. 
Your Gulf Coast Weather Authority began tracking this system when it was first warned near Pearland, potentially having been on the ground for 30 (or more) miles as it moved northeast across I-10 toward Mont Belvieu. 
In total, 23 warnings were issued: 10 severe thunderstorm warnings, 8 tornado warnings, 4 marine warnings, and 1 flash flood warning in addition to several areal flood advisories and river flood warnings. As of this writing, they have all been dropped.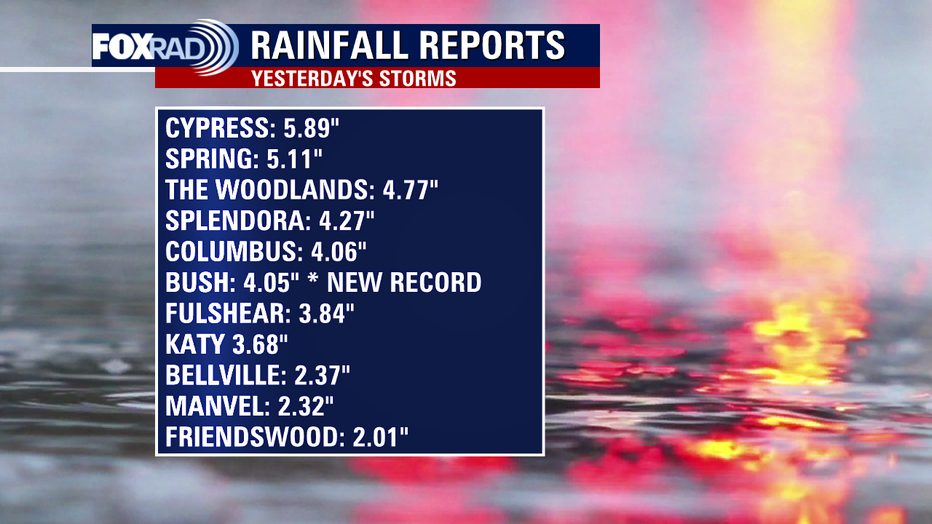 Flooding was no surprise as some spots picked up nearly 6" of rainfall, that in some instances fell in a concise period of time. This intense, relentless rainfall lead to street flooding, stranded vehicles, and impassable roadways. Bush Intercontinental set a new daily rainfall record of 4.05". The old record? Nearly half that: 1.94" back in 2011.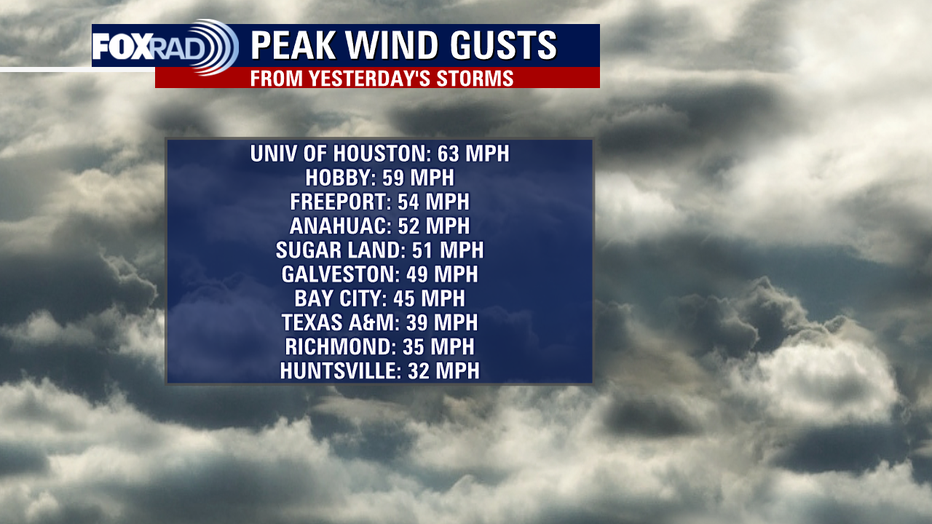 Winds were howling even when and where it wasn't raining, a 63 mph wind gust was measured at the University of Houston. 
Several gusts were in excess of tropical storm force (39mph), leading to downed tree limbs and power outages, in addition to the prolific thunder and lightning that drove power outages up above 100,000 customers at its peak.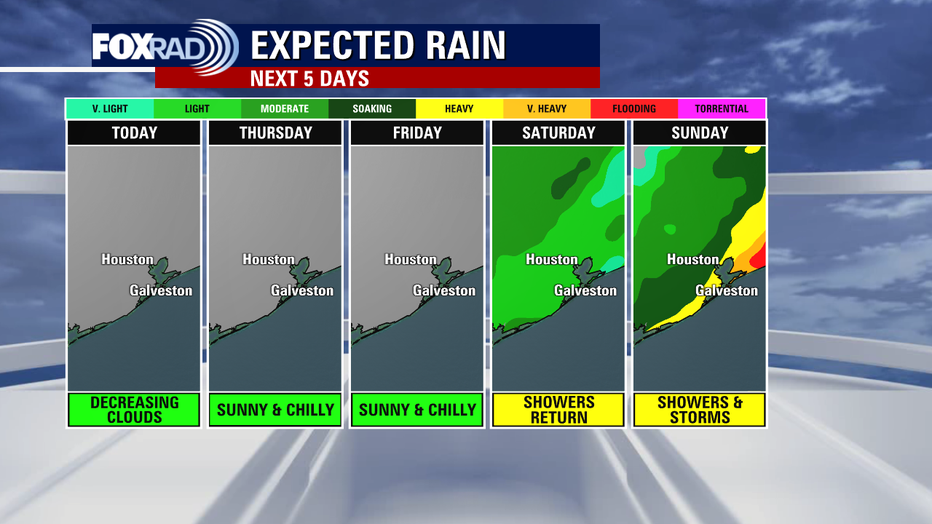 As we turn the page toward several dry and quiet, albeit chilly days the work is still just beginning. These communities will take time to rebuild. But the weather will cooperate through the start of the weekend. Unsettled weather takes over again starting on Saturday, and does look to linger through the middle of next week. 
SUGGESTED: Pasadena residents describe how they felt when a tornado hit | Pasadena Animal Shelter damaged by possible tornado: How you can help the animals
At this time, severe weather is not expected with any of these disturbances. But stick with Your Gulf Coast Weather Authority as we continue to monitor the latest incoming information on the damage surveys, and look ahead at the rain that is set to move in next.