Houston Job Fair: 2 day hiring event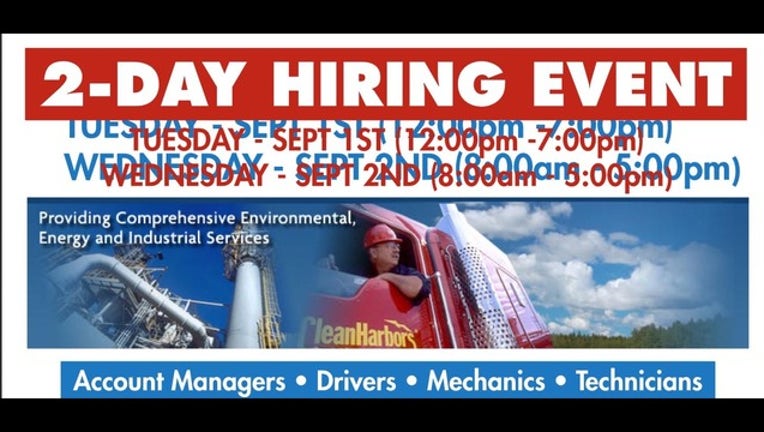 houston - Clean Harbors is conducting a 5 City hiring event which includes Houston, Deer Park, San Leon, LaPorte, and Missouri City next week in Webster, Tx on I-45 south at Hilton Garden Inn.  We currently have 100's of Houstonians working in our facilities.
.  Clean Harbors is conducting interviews for multiple positions and for candidates that apply online prior to the event, they will be considered for IMMEDIATE HIRE.
Clean Harbors is the leading provider in environmental, energy and industrial services throughout North America. The Company serves a diverse customer base across a broad range of vertical markets, which includes a majority of the Fortune 500 companies, numerous federal, state, provincial and local governmental agencies, and through its Safety-Kleen subsidiary, over 200,000 small and medium sized businesses.
Clean Harbors is organized into four business units: Technical Services, Industrial and Field Services, Safety-Kleen, and Oil and Gas Field Services. These individual business units are focused on specific customer segments, and offer an integrated platform of services to meet the specific needs of each individual vertical market.
Clean Harbors Technical Services provide a broad range of hazardous material management and disposal services including the collection, packaging, transportation, recycling, treatment and disposal of hazardous and non-hazardous waste.
Clean Harbors Industrial and Field Services provide industrial and specialty services, such as high-pressure and chemical cleaning, catalyst handling, decoking, material processing and industrial lodging services to refineries, chemical plants, pulp and paper mills, and other industrial facilities. Field Services provide a wide variety of environmental cleanup services on customer sites or other locations on a scheduled or emergency response basis.
Clean Harbors' Safety-Kleen subsidiary is a leading North American used oil recycling and re-refining, parts washers and environmental solutions company for small quantity waste generators supported by the largest re-refining capabilities to convert used oil into base and blended lube oils. Safety-Kleen provides a broad set of environmentally-responsible products and services that keep businesses in balance with the environment.