Houston-area Fourth of July events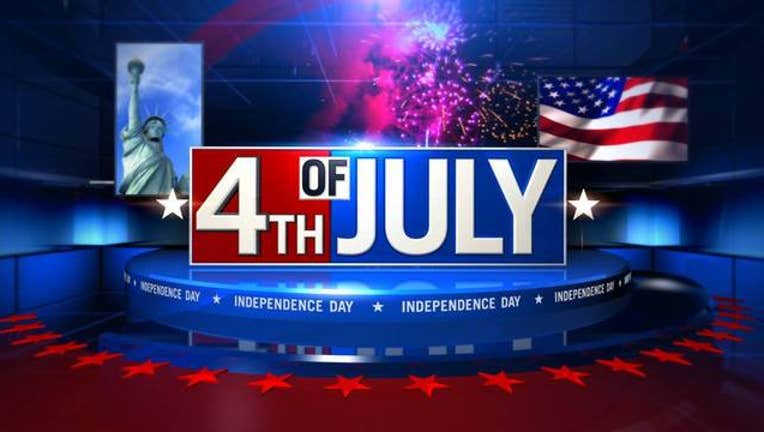 article
HOUSTON (FOX 26) - It's time to celebrate Independence Day in Houston! 
Below you'll find a list of events that include fireworks that will be held in and around the Houston area. 
Freedom Over Texas --The eyes of Texas will be on Houston as fireworks ignite the sky, and country tunes set the stage for Houston's signature patriotic celebration, US Family Health Plan Freedom Over Texas. This year's event features former Hootie & the Blowfish lead-singer-turned-solo-country-artist Darius Rucker. Joining Rucker on the main stage is chart-topping country music group and Texas natives the Eli Young Band, known for such hits as "Crazy Girl" and "Even If It Breaks Your Heart". Houston favorite The Suffers will also share the stage, showcasing their signature fusion of rock 'n roll and "Gulf Coast Soul". The evening will finish with a spectacular display of fireworks presented by CITGO. US Family Health Plan Freedom Over Texas will take place on Monday, July 4th from 4 p.m. - 10 p.m. at Eleanor Tinsley and Sam Houston Parks on Allen Parkway (along Buffalo Bayou)
41st Annual South Montgomery County 4th of July Parade The theme for the 41st Annual South Montgomery County Parade is Music of America.  The parade will delight spectators with more than 100 float entries, as well as the 72nd Infantry Brigade Combat Team Texas Army National Guard which consists of 1-133D Field Artillery and the 72nd Special Troops Battalion. The 453rd Inland Cargo Transfer Company, U.S. Army Reserves, also will be making a special appearance at the parade.  The parade boasts more military presence than any parade in the region. Additionally, marching bands from Hempstead High School, Willis High School, The Woodlands High School, The Woodlands College Park High School and the Greater Houston All Star Band will showcase their musical talents.  Nancy Curtis, a Woodlands resident and multifaceted Grammy-winning soprano artist, will perform the national anthem. Many local dignitaries will be present for the festivities, such as State Representative Mark Keough, County Judge Craig Doyal, Dr. Ed Robb, Dr. Ann Snyder and Grand Marshall Darryl Bayer, Artistic Director of The Woodlands Symphony. 
H-E-B Presents Fireworks on the Brazos---Presented by H-E-B and coordinated by the Washington on the Brazos State Park Association, the annual 4th of July celebration at this 293-acre state park includes a day filled with family activities from 10 a.m. to 10 p.m. on Monday, July 4, 2016. Highlights of the celebration are the free music concert by Cody Bryan Band from 7 to 9 p.m. in the park's amphitheater, followed by a fireworks extravaganza with patriotic music at approximately 9:30 p.m.   Tours of Independence Hall occur on the hour at 11 a.m. and 1, 2, 3, 4 and 5 p.m., along with old-fashioned period baseball games between 6 and 7 p.m.  Kid's crafts will take place at the Visitor's Center from 1 p.m. to 3 p.m.   Period games (such as sack races, pig bladder toss, egg on spoon races); firing of rifles with black powder demonstrations; and living history interpretations will occur at the Barrington Living History Farm.  The Gift Shop will be open from 10 a.m. to 9 p.m. Buses will run constantly from 1 to 10 p.m. to shuttle guests to the different areas of the park, at no charge.
Citizen Appreciation Day in League City--The City of League City will host its annual Citizen Appreciation Day on Monday, July 4, from 11 a.m. to 3 p.m. at League Park.The event is free and open to the entire community as a token of appreciation for all who make League City their home.  Festivities include a petting zoo, live entertainment, face-painting, moonwalks, food, snow cones, and cotton candy.
Sugar Land Star Spangled Spectacular ---This year's event will highlight America's favorite sport - baseball!  Before the event moves to its new home near Sugar Land Memorial Park, the Sugar Land Skeeters will host the New Britain Bees for a seven-inning game to close out the Star Spangled Spectacular at Constellation Field. The game is scheduled to start at 7 p.m., but feel free to arrive early to enjoy classic rock and county hits by the Houston-area cover band, The Miller Effect. In addition to band, special patriotic tributes are programmed throughout the night to include the singing of the National Anthem by Sugar Land's 2016 finalist from The Voice, Mary Sarah; a dove release; a live patriotic painting; and various community booths and activities located in the concourse area. For that night only, the onsite carousel, splash pad and inflatables will be open and free for everyone.
Tomball Independence Day Celebration--The City of Tomball and presenting partner Allied Siding & Windows are taking the City's 2016 Independence Day celebration back to the streets on Monday, July 4th. Performing  on the K-STAR 99.7 FM stage are classic rock band "The Bottle Rockers" and Cajun favorites "Bayou Roux", along with a musical salute to the good old USA.   Kid's games and water activities will fill the KROGER Kids Zone beginning at 5:00 p.m. Food and beverages, festival-style treats and more will be provided by The Original Rib Tickler, Pecos Grill, Kona Ice and others throughout the evening.The giant fireworks show will fill the sky above Business Highway 249 beginning around 9:15 p.m., with synchronized music available on Tomball's own 95.1 FM - low power FM radio.
Pearland Celebration of Freedom---Don't miss this year's "Celebration of Freedom" as the City of Pearland celebrates the 4th in patriotic style.  The event is scheduled for Monday, July 4 from 6 to 10 p.m. at Pearland High School Football Stadium located at 3775 S. Main Street.The Independence Day activities and entertainment begin at 6 p.m. Following the opening of the event, "The Slags" will perform on to the H-E-B Entertainment Stage playing everything from today's hits to classics of the past. Relax and sing along to live music while enjoying strolling entertainment, craft and novelty booths, "Backyard Bash" Yard Games and keep the young ones busy with our "Hoola Hoop-la" Children's Area. The event will also feature a VFW military salute followed by a performance of the National Anthem. The exciting fireworks finale, "unleashed" by Westside Veterinary Hospital will ignite the Pearland sky at 9 p.m. 
Fulshear Freedom Fest --The 9th Annual Fulshear Freedom Fest. 4th of July Celebration brought to you by the City of Fulshear, Texas and the Fulshear Area Chamber of Commerce, along with the Houston Methodist West Hospital will take place in historic downtown Fulshear on Monday, July 4th from 5:30pm to 9:30pm. The event will kick-off with a traditional parade at 5:30pm and conclude with The WCA's Big Bang Fireworks Show at 9:15pm. The night's entertainment will include the popular Spazmatics along with food trucks, vendors, and many activities for kids. 
Kidpendence Day at Children's Museum of Houston ---The stars and stripes will be in full effect as we celebrate our country's 240th birthday at the Children's Museum of Houston Top S.E.C.R.E.T.:  S.O.S. (Summer of Spies) Don't miss---Boy Scout Color Guard and National Anthem:  Kick off the festivity with the Scouts presenting the flag and the Pledge of Allegiance followed by the National Anthem. Uncle Sam and Statue of Liberty Character Appearances:  Meet the embodiments of American patriotism. Flag Waving Parade lead by High Steppers Brass Band:  Follow this exciting brass band as they march through Kidtropolis, USA out to the Allen Family Courtyard.
Wet and Wild Splashtown 4th of July Celebration --Come celebrate our nation's Independence Day at Wet 'n' Wild SplashTown, Southeast Texas's largest and most affordable water park, where we take the fun of a water park and add music, games, prizes and an awesome fireworks show beginning at dusk!   <www.wetnwildsplashtown.com>