HCSO deputy's death propelling catalytic converter theft crackdown
HARRIS COUNTY, Texas - On March 31, 2022, a killing took place which enraged a greater-Houston community already hardened by month after month of violent crime.
BACKGROUND: Harris County off-duty deputy killed in grocery store parking lot
Harris County Sheriff's Deputy Darin Almendarez gunned down after confronting armed thieves attempting to slice the catalytic converter from his truck.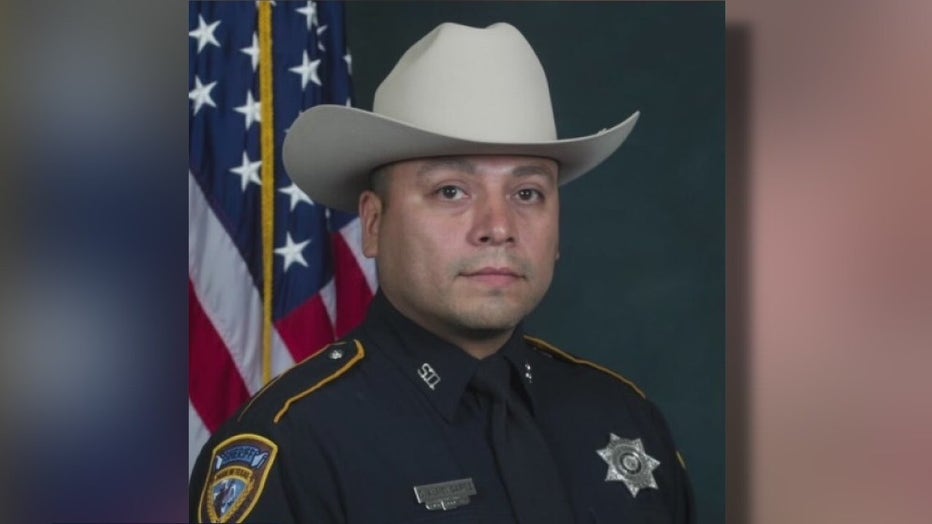 Harris Co. deputy Darren Almendarez (Photo courtesy of HCSO)
Nearly a year later, the wife who witnessed her husband's murder re-called his final moments of life.
"When we held onto each other, he just told me he couldn't breathe and that he loved me. We kissed and that was his last breath. I have to live with that," said Flor Almendarez.
Almendarez's heart-wrenching testimony came before the Criminal Justice Committee of the Texas Senate.
"My husband gave up his life for me, not just me, for the community," said Almendarez.
RELATED: Prosecutors seek death penalty in shooting of Harris County Deputy Darren Almendarez
The Legislature is contemplating a slate of "get tough" reforms. Among them, elevating unauthorized possession of catalytic converters to a felony offense.
As for the three suspects charged in the killing of Deputy Almendarez, the officer's widow says they have expressed neither sorrow nor accountability for ending a life.
"The moment that I saw them, there was no remorse. They were smiling at each other in court and I have never felt hate towards anybody, and I learned about hate that day," said Flor Almendarez.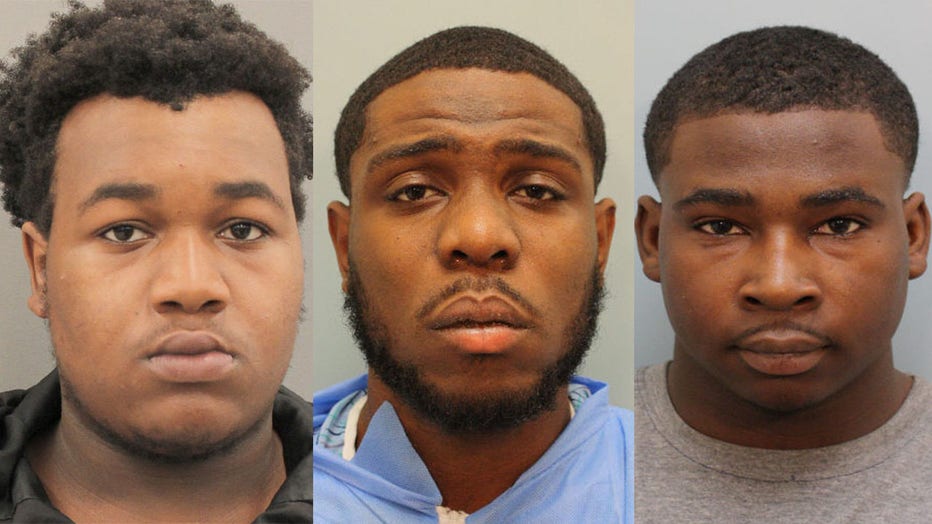 Fredarius Clark, 19, (L) Joshua Stewart, 23, (C) and Fredrick Tardy, 17, (R) are charged with Capital Murder in the death of veteran Harris County Sheriff's Deputy Darren Almendarez.
Lawmakers, Republican and Democrat, appeared united in the need for drastic action, both pre-emptive and punitive.
"People are being killed. This is an issue that's wreaking havoc in our communities and wreaking havoc on our public safety," said State Senator Mayes Middleton, a Galveston Republican.
"Catalytic converter theft is now an organized violent crime," said State Senator Carol Alvarado, a Houston Democrat.
"We don't care whose name is on the bill. We want it to fix the problem. What gets measured gets fixed," said State Senator Paul Bettencourt, a Houston Republican.
Flor Almendarez calls legislative action an essential response for a peace officer's sacrifice and her own.
"Nothing but memories. I hate coming home, to our home, I hate coming home because he's not there," said Flor.
SB 224, the catalytic converter crackdown measure passed out of committee on a unanimous, bi-partisan vote and is now headed to the full Texas Senate.
Fittingly, Senator Alvarado named the bill in honor of Deputy Darin Almendarez.