Harris County jailers used hogtie in deadly confrontation despite DOJ recommendations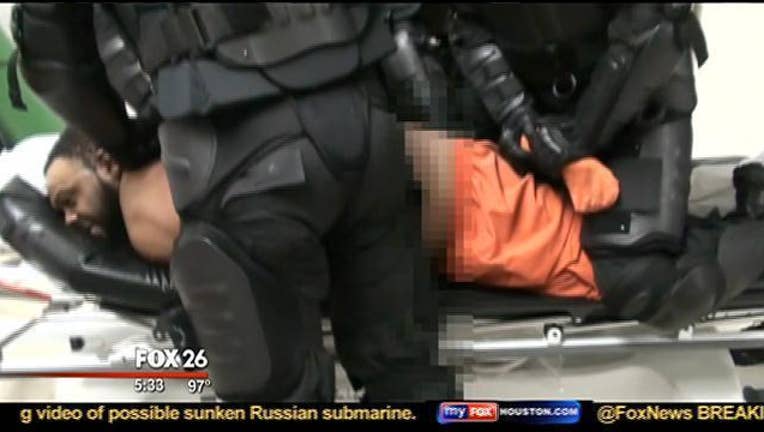 article
Harris County jailers use a hogtie restraint on a prisoner in 2014, and a lawsuit alleges that use of force killed him. But if the county had heeded a direct recommendation from U.S. Department of Justice in 2009, saying hogtying was dangerous and therefore should be prohibited, would 38 year old Kenneth Lucas still be alive?
His family believes he would. The 2009 letter from the DOJ to Harris County is a major factor in the federal lawsuit.
"This is very good evidence that this county will be held liable," says civil rights attorney Randall Kallinen. "Is it 100% for sure? No. Is it really good evidence?  Yes."
Kallinen explains that the letter addressed to County Judge Ed Emmett, which laid out the need for several changes at the Harris County Jail, amounted to a demand letter.
"Make these changes or we'll sue," is what Kallinen says the DOJ is telling the county.
That hasn't happened yet, but certainly ignoring the DOJ instructions leaves Harris County vulnerable to high dollar civil lawsuits.
"Once the jury sees that, they say, 'Well, you were told,' and that could cause punitive damages against individuals," Kallinen says.
Governments are protected from punitive damages, but there are other damages that would run up the tab.
Lucas had a large family counting on him.  His 4 children are ages 2, 3, 15 and 16.  Kallinen believes the county could be held accountable for loss of lifetime wages, mental anguish, pain and suffering of Lucas during his restraint, and pain and suffering of the family he left behind.
In custody deaths have already cost Harris County millions of dollars. If Lucas's family wins this case, or reaches a pre-trial settlement, it could cost the county millions more because of the number of Lucas's dependents.
Click here to watch the full length of this video with the permission of the family's attorneys so you can see how events transpired in full context.