Florida family spells out 'HELP' with logs after Hurricane Michael devastates area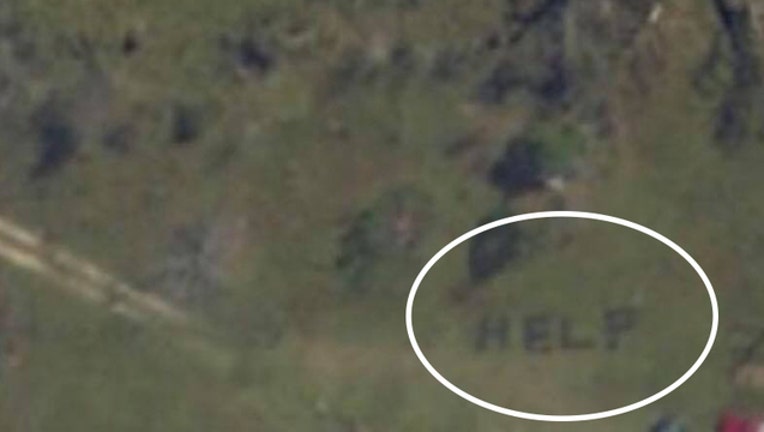 article
YOUNGSTOWN, Fla. (FOX NEWS) - A call for help by a Florida family after Hurricane Michael left devastation across the state's Panhandle region was answered on Saturday thanks to a woman's keen eye when scanning satellite data.
Amber Gee was scanning the National Oceanic and Atmospheric Administration's interactive aerial map to check in on damage to her grandmother's property when something stuck out in particular to her: the word "HELP" spelled out in the yard.
RELATED: NOAA maps show street-by-street views of Hurricane Michael's destruction
Gee had thought her grandmother and other two relatives had evacuated before the Category 4 storm with 155 mph winds made landfall in Mexico Beach and roared across Florida's Panhandle into Georgia, flattening trees and damaging structures in its wake.
MORE: President Trump tours Hurricane Michael damage in Florida
Her uncle, his wife, and a friend of theirs had ended up staying at the house in Youngstown, located 20 miles northeast of Panama City, and became trapped due to "a lot of downed trees" near the home, so he spelled out the word "H-E-L-P" in the yard, which was spotted on the aerial photo. Gee then contact the Bay County Emergency Management, who sent deputies to the home and rescued the group.
"This is an incredible story of how people are working together in this situation," Bay County Emergency Management posted on Facebook. "Someone from another county was using the mapping app to check property in rural Bay County and noticed the word "help" spelled out in the grass in logs. That person immediately contacted us and sent the picture and we dispatched needed assistance."