Florida condo collapse: Death toll rises to 28 after demolition opens up new search areas
SURFSIDE, Fla. - Rescuers searched through fresh rubble Monday after the last of the collapsed Florida condo building was demolished, which allowed crews into previously inaccessible places, including bedrooms where people were believed to be sleeping at the time of the disaster, officials said.
But they faced a new challenge from thunderstorms that hit the area as Tropical Storm Elsa approached the state.
Four more victims were discovered in the new pile, Miami-Dade Assistant Fire Chief Raide Jadallah told family members, raising the death toll to 28 people. Another 117 people remain unaccounted for.
Teams had been unable to access areas closest to the remaining structure because of its instability, Miami-Dade County Mayor Daniella Levine Cava said. The demolition allowed teams to access new areas including bedrooms where people were believed to be sleeping at the time of the disaster, officials said.
"Truly we could not continue without bringing this building down," she said at a news conference.
Workers immediately began clearing some of the new debris after the demolition so rescuers could start making their way into parts of the underground garage that is of particular interest. Officials said the search effort resumed around midnight. It had been called off Saturday to allow specialists to drill holes for explosives needed for the demolition.
"As a result of the contractor who brought it down, he did it in such a way that literally we actually were back on the original pile in less than 20 minutes," Jadallah told family members of those missing.
Some residents had pleaded to return to their homes one last time to retrieve belongings left in haste but were denied. Others wondered about the pets left behind, even though officials said they found no signs of animals after making three final sweeps, including the use of drones to peer into the abandoned structure.
Levine Cava said teams are working to save personal items and have asked residents to catalog what they're missing to match with items as soon as they are recovered.
"The world is mourning for those who lost their loved ones and for those who are waiting for news from the collapse," she said at the news conference. "To lose your home and all your belongings in this manner is a great loss as well."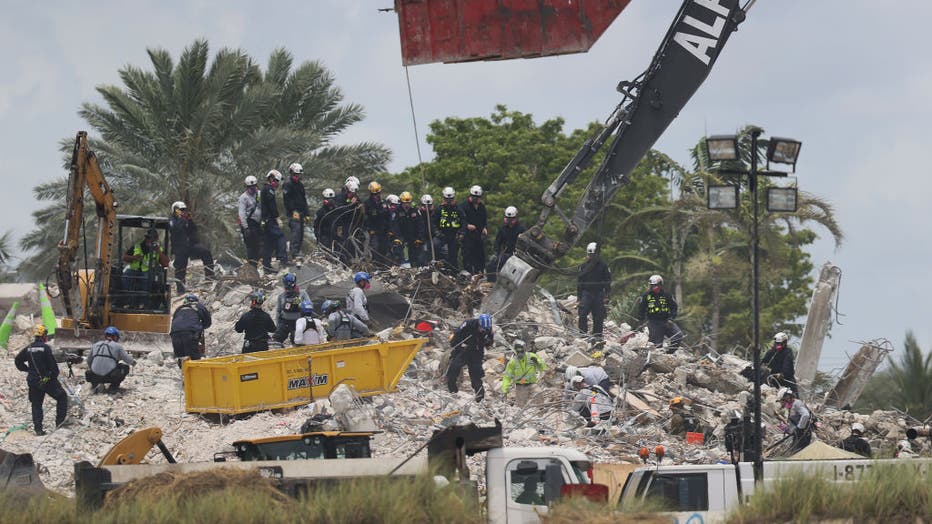 SURFSIDE, FLORIDA - JULY 05: After a brief stoppage to demolish the standing remains, Search and Rescue personnel continue working in the rubble pile of the partially collapsed 12-story Champlain Towers South condo on July 5, 2021, in Surfside, Flori
Meanwhile, approaching Tropical Storm Elsa added urgency to the demolition plans. Forecasts suggested the system could bring strong winds. President Joe Biden declared a state of emergency in Florida because of the storm, making federal aid possible.
The latest forecasts showed the storm moving westward, mostly sparing South Florida, but the area could still experience heavy rains and winds. Miami-Dade Assistant Fire Chief Raide Jadallah said that weather was not expected to affect the search efforts.
"Now that we don't have an issue with the building, the only time that we're stopping is lightning," he said.
RELATED: Tropical Storm Elsa leaves 3 dead in Caribbean
With dozens of people still unaccounted for, officials said the task of finding so many human remains could soon overwhelm the local medical examiner's office. The federal government has sent a team of five people from the University of Florida to help with DNA analysis.
But the pace of finding victims' remains has been slow so far, with efforts focused on searching for anyone who may still be alive. That part of the process should take a couple of weeks before it turns into a recovery phase, which could also run for weeks.
Many of the building's occupants are Jewish, and emergency workers are being careful to heed religious sensitivities as they handle what they find.
Hours before the demolition on Sunday, Miami Beach police officers shone lights to remember the victims in the rubble. 
"This evening, in a show of solidarity and support with our neighboring town, the City of Miami Beach has encouraged everyone to shine a light paying tribute to all of the Surfside victims, their families and first responders involved in this national tragedy," the department wrote in a video post on Instagram.
The Miami Beach Fire Department also paid tribute to the tragedy with firefighters flashing engine lights and the lights of a rescue boat. 
RELATED: Rescuers couldn't save woman trapped in condo collapse rubble who pleaded for help, fire chief says
The cause of the collapse of the Champlain, which was built in 1981, remains under investigation. A 2018 engineering report found that the building's ground-floor pool deck was resting on a concrete slab that had "major structural damage" and needed extensive repairs. The report also found "abundant cracking" of concrete columns, beams and walls in the parking garage.
Just two months before the building came down, the president of its board wrote a letter to residents saying that structural problems identified in the 2018 inspection had "gotten significantly worse" and that major repairs would cost at least $15.5 million. With bids for the work still pending, the building suddenly collapsed.
This story was reported from Cincinnati. The Associated Press contributed.