Elizabeth Warren campaigns in Houston ahead of Super Tuesday
HOUSTON - Senator Elizabeth Warren was in Houston Saturday night campaigning ahead of Super Tuesday.
According to her campaign, more than 2,100 people were at the event outside at Discovery Green downtown.
The Democratic presidential hopeful has ties to Houston. Warren graduated from the University of Houston and returned to teach there as a professor.
"Thank you for welcoming me back to Texas," said Warren. "I did some real growing up here. Finished college at the University of Houston, go Coogs! I had my first job as a law professor at UH and then UT, go Longhorns!"
Warren's speech lasted for about 40 minutes, but she then met with supporters for roughly two hours.  A "selfie line" wrapped around Discovery Green as Warren took photographs with everyone in line.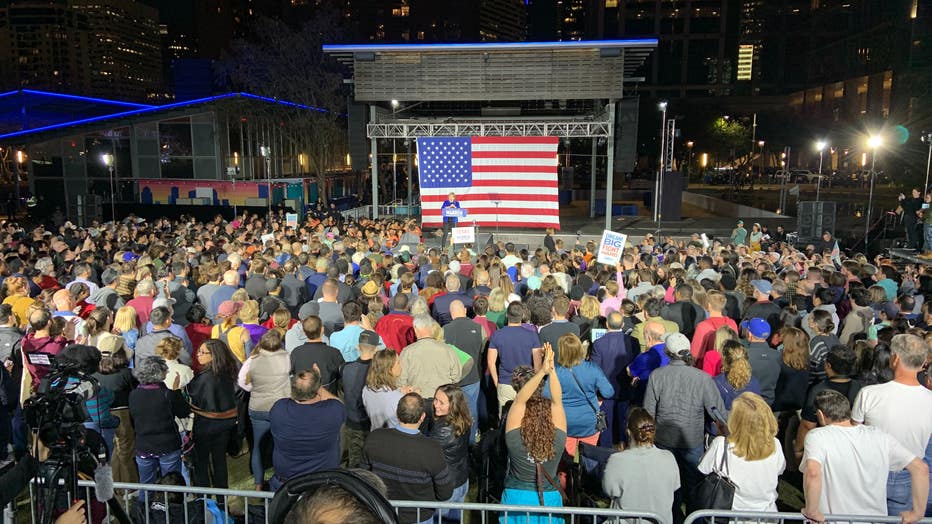 Instead of a routine campaign speech about her political ideas as a presidential candidate, Warren focused on the coronavirus and its impact on the economy.
"In the coming days I will be releasing an expanded plan to deal with the public health and economic effects of coronavirus," said Warren. "These are steps that Congress and the President should take immediately to keep our people and our economy healthy."
Anxious crowds lined up early outside Discovery Green now just a few days away from "Super Tuesday".
"She has a plan and she's not Donald Trump," said Kathy Beezley, a Warren supporter.
"I believe in the two cent wealth tax," said Reginald Bradley a Warren supporter. "I believe in getting that money back to schools. $800 billion in schools makes a difference in our community."
The democratic presidential candidate is hopeful for a win in Texas during Tuesday's primary election.
"The crises we face are real," said Warren. "2020 is your chance to choose a president. And I'm ready to get to work."