Disaster loan assistance for Texas residents, businesses impacted by Jan. 24 severe storms, tornadoes
HOUSTON - Texas businesses and residents who were impacted by the severe storms and tornadoes on Jan. 24 can apply for low-interest federal disaster loans through the U.S. Small Business Administration.
A Disaster Loan Outreach Center opened this week at the John Phelps Courthouse Annex Suite F in Pasadena this week.
MORE: 4 Southeast Texas tornadoes confirmed in Harris, Fort Bend, Brazoria, Liberty counties
SBA customer service representatives will be at the center at 101 S. Richey Street to answer questions about the loan program and help with the application process. The center is open from 8 a.m. to 4:30 p.m. Monday through Friday.
The SBA says they declared a disaster after the state's request for a major disaster declaration for individual assistance was denied on Wednesday.
MORE: Severe weather: Gov. Abbott requests SBA disaster relief after he says FEMA denied assistance
The SBA's disaster declaration makes assistance available to people in Brazoria, Chambers, Fort Bend, Galveston, Hardin, Harris, Jasper, Jefferson, Liberty, Montgomery, Newton, Orange and Waller counties. That includes the City of Houston in Texas, and Calcasieu and Cameron parishes in Louisiana.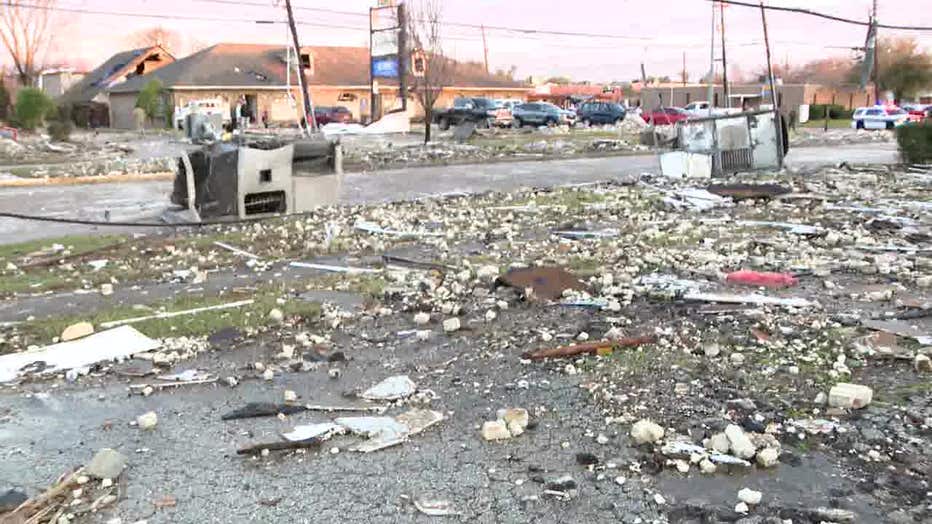 Debris left scattered across the ground in Deer Park on Jan. 24.
Any-sized businesses or private nonprofit organizations can borrow up to $2 million to repair or replace damaged or destroyed real estate, machinery and equipment, inventory and other business assets.
MORE: How to avoid repair scams, filing insurance claims after Southeast Texas tornadoes
Officials say businesses and homeowners can also borrow money to help with the cost of improvements to protect, prevent or minimize the same type of disaster damage from occurring again.
The SBA says they offer Economic Injury Disaster Loans to small businesses, small agricultural cooperatives, small businesses engaged in aquaculture and most private nonprofit organizations of any size to help meet working capital needs caused by the disaster regardless of whether the business suffered any property damage.
The SBA says homeowners can also receive disaster loans up to $200,000 to repair or replace damaged or destroyed real estate. Homeowners and renters could be eligible for a loan up to $40,000 to repair or replace damaged or destroyed personal property including personal vehicles damaged in the disaster.
MORE: Houston weather videos: Shocking footage of floods, heavy rain and tornado damage
Loan amounts and terms are set by the SBA based on each applicant's financial condition, but they could be as low as 3.305% for businesses, 2.375% for private nonprofit organizations and 2.313% for homeowners and renters with terms up to 30 years.
Those who borrow a disaster loan through the SBA have up to a year from the date of the note to begin making payments. The SBA says interest won't begin to accrue until 12 months from the date of the initial loan disbursement and accrues only on the amount disbursed.
For more information, or to download the application, visit https://disasterloanassistance.sba.gov/
You can also call SBA's Customer Service Center at (800) 659-2955 or email disastercustomerservice@sba.gov for more information. Those who are deaf, hard of hearing, or have a speech disability, can dial 7-1-1 to access telecommunications relay services.
The deadline to apply for property damage is May 16, and the deadline to apply for economic injury is Dec. 18.
Completed applications should be mailed to U.S. Small Business Administration, Processing and Disbursement Center, 14925 Kingsport Road, Fort Worth, TX  76155.