Diamond the size of a tennis ball could fetch $70 million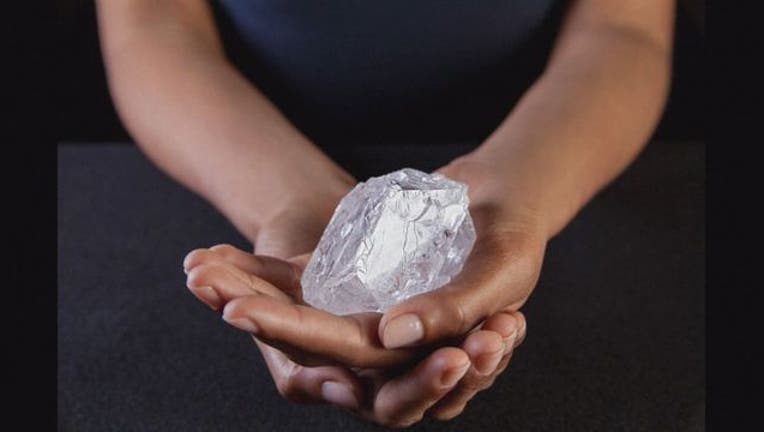 article
LONDON (AP) — It's a rock for the ages.
A 3-billion-year-old diamond the size of a tennis ball — the largest discovered in over a century — could sell for more than $70 million, auctioneer Sotheby's said Wednesday.
The auction house plans to offer the Lesedi la Rona diamond in London on June 29.
The diamond was unearthed in November in Botswana at a mine owned by Canada's Lucara Diamond Corporation. It measured 1,109 carats, the second-largest gem-quality rough diamond ever discovered. Its name means "our light" in the Tswana language of southern Africa.
The auctioneer said the rough gemstone "of exceptional transparency" could yield the largest top-quality diamond ever cut and polished.
David Bennett, chairman of Sotheby's jewelry division, called the discovery "the find of a lifetime" and the auction unprecedented, because no rough diamond of this size has ever been auctioned.
"We put an estimate on it in excess of $70 million, so that is the sort of area we are expecting to go for, but frankly it is difficult to tell — what is the largest diamond in the world worth?" he said.
The Royal Collection Trust, which oversees British royal treasures, says the largest gem-quality diamond ever found was the 3,106-carat Cullinan diamond, unearthed in South Africa in 1905. It was cut into nine pieces that form part of the U.K. Crown Jewels.
The Lesedi la Rona could smash the record price for a diamond of $48.5 million, paid at a Geneva sale last year for the 12.03-carat polished "Blue Moon" diamond. Hong Kong billionaire Joseph Lau picked it up as a gift for his 7-year-old daughter.
The Lesedi la Rona diamond will be on public display at Sotheby's in New York on Saturday, and at the auctioneer's London showrooms June 18-28.