D'Antoni on Carmelo: 'All he wants to do is win'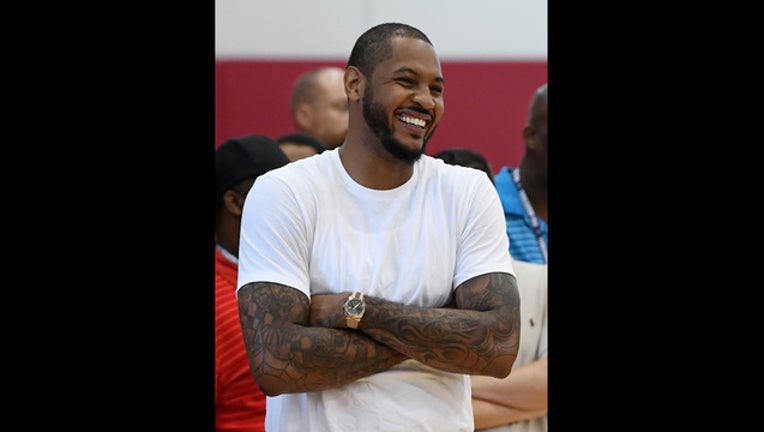 article
HOUSTON, TX - The Rockets announced 10-NBA All-Star Carmelo Anthony has officially signed his contract with the team.
NBA sources confirm Anthony gets a one-year contract worth the veteran's minimum of $2.4 million.
Head coach Mike D'Antoni is looking forward to working with Carmelo.
"I'm getting excited. All he wants to do is win, and he wants to be able to come in here and contribute, even said he wanted to be the glue guy," D'Antoni said in an interview with FOX 26 Sports.
"Obviously, we got to go figure out what's the best way to play him and try to get the max out of him. He's been one of the best players in the league. He's a gifted offensive player, without a doubt. It's going to add to an already-potent team."
Before Anthony agreed to join the Rockets, he discussed with D'Antoni the possible scenarios in which he may be used.
"We had long talks about how we want to play," D'Antoni said. "What kind of role he would have."
D'Antoni said Anthony, six-time All-NBA and the league's scoring champion in 2013, understands he may have to come off of the bench this coming season with the Rockets.
"We'll see at the time," D'Antoni said. "He's open to it. Like he said, his whole goal is just to win. He's open to anything. We went through those scenarios, could happen. I don't know. We have to work some things out. There might be some bumps along the way.
"I'm sure there'll be a lot of naysayers that say they can't co-exist. If three guys like that co-exist, with James (Harden) and Chris (Paul), you've got a heck of a good chance.
"We got some great players on the team. It's not a slight if somebody comes off the bench. If that's it and that's what we'll do, then he's all in."
It's been well-documented that D'Antoni and Anthony did not work well together when the two were with the Knicks, but the Rockets coach said that's ancient history.
"He's a great guy," D'Antoni said. " In some work situations..he wanted one thing. I wanted another. We kind of clashed a little bit, but surely we can learn from it. We can get better with it. We can make sure it doesn't happen again.
"Like I said, I've always thought he was a good guy. We never had a blowup, verbally. Just didn't work out. We had different ideas at the time. I think our ideas are the same now and we're going to try to make it work."
They have made it work since their days with the Knicks. The two won a gold medal together with Team USA during the 2012 Olympics.
"If I can put him in his right position and he flourishes and the team wins, we're not going to have any problems," D'Antoni said.
"My goal as the coach is to make him have the most fun and best year that he can have, now. If I do that, whether he starts or whether he doesn't, doesn't really matter. He needs to be happy and I need to find ways to make him happy.
"I can't see why we'd miss. I mean possibly. I'm going to do everything to make it work the best I can. I'm sure Melo will do the same thing. I know the other guys will."
Carmelo Anthony is one more weapon D'Antoni has to work with to go along with the core group that had the Rockets very close to going to the NBA Finals last season.
"I mentioned Chris and James before, but you're talking Clint (Capela) and PJ (Tucker) and Eric (Gordon) and Gerald (Green), James Ennis. I don't want to leave anybody out, but you have this group that's going to do everything they can. It's a great group, and all we're doing is adding talent.
"We know our goal. We know who's standing in our way. We got to be better than them."
Last week during the Texans workouts in West Virginia D'Antoni said the worst the Rockets can be this season is great, and that was before Anthony was on board.
"We're going to be good," D'Antoni said. "We're going to be really good. It should be exciting for the fans of Houston. I hope that we're always packed and everybody's there ready to go.
"Houston does have an abundance of great teams. It's unbelievable what the Astros do and what the Texans are doing and then what we're doing.
"I know (Houston fans) get their fill of sports, but you come out to Rockets games, you're going to see one of the best teams ever in history."