Dairy Queen's new Blizzard flights will let you try 3 flavors at once during the month of May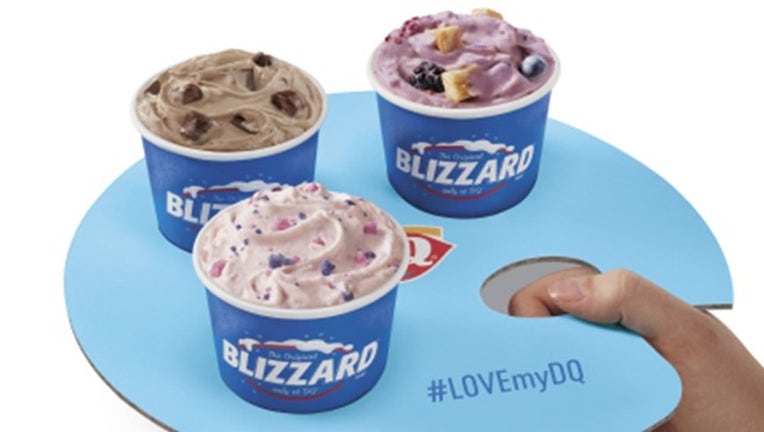 article
FOX 35 ORLANDO - If you're like many who have stared at Dairy Queen's Blizzard menu, trying to narrow it down to just one flavor, you're in for a real treat. 
For the month of May, Dairy Queen is offering a 3-Blizzard flight tray, kind of like a beer flight. Ice cream lovers will get to choose three mini-size Blizzards, served up on a convenient little tray.
According to the press release, "[T]he DQ brand is offering Mini Blizzard Treat Flights, so fans can explore three different, drool-worthy flavors at a time, and discover new favorites." 
As for flavors, you can choose from the standard Blizzard menu or you can sweeten it up by picking one of the 6 new Blizzards that will be available for the summer. DQ described each one on their website: 
Caramel Cannonball Blizzard Treat: What better way to splash into the season than with a Blizzard Treat named after a quintessential summer activity? The NEW Caramel Cannonball Blizzard Treat is made with sweet caramel coated truffles, crunchy toffee pieces and caramel topping.  
OREO Cookie Jar Blizzard Treat:  A deep dive into the cookie jar created this delicious Blizzard Treat featuring OREO cookie pieces, chocolate chip cookie dough and fudge.  
Brownie Dough Blizzard Treat: A chocolate lovers' dream, this decadent NEW creation includes rich and chewy brownie dough pieces, choco chunks and cocoa fudge.  
S'mores Blizzard Treat: A cool twist on a campfire favorite, the returning S'mores Blizzard Treat includes a delectable blend of marshmallow filled chocolates and graham.  
Cotton Candy Blizzard Treat: The DQ brand is bringing back a deliciously sweet Blizzard Treat flavor inspired by the classic fair food, with pink and blue cotton candy sprinkles layered throughout creamy soft-serve.    
Summer Berry Cheesecake Blizzard Treat: This returning favorite features refreshing blend of real raspberries, blackberries, blueberries, plus rich and creamy cheesecake pieces.
The Blizzard mini-flights aren't the only new treats. DQ is also releasing 'Cupfections,' described as "a delightful twist on the typical sundae experience, made bigger and better with layers of baked goods and decadent toppings." Flavors include Brownie and OREO and Summer Berry Cake.
If you prefer to drink your ice cream, you may want to snatch up one of their new Cake Shakes, made with vanilla layer cake, blended with milk and DQ soft serve and topped with more cake. You can choose from a Chocolate Cake shake or a Strawberry Cake shake. 
The Mini Blizzard Treat Flights will only be available through the end of May, but the rest of the new summer treats will be on the menu till August.