Centennial Lakes Police Dept. gets accidental party invite in wrong number text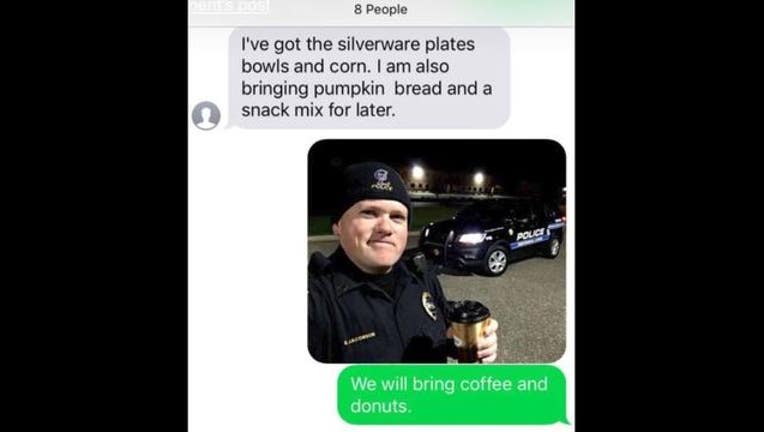 article
CIRCLE PINES, Minn. (KMSP) - There's a party going on somewhere this weekend, but the Centennial Lakes Police Department based in Circle Pines, Minn. is not invited. At least not anymore.
A phone number for the Centennial Lakes Police Department accidentally got added to a group text planning a party this upcoming weekend. 
"Hey guys, the party is this weekend!" the text chain started. "Can't wait to see you all!! We are trying to put some games together and make sure we have everything. Just curious who is all coming and what everyone is bringing for plates/napkins/silverware/food/dessert?"
When others started replying who was bringing the chips, beans and pumpkin bread, a Centennial Lakes police officer felt he had to speak up about the wrong number.
"Hi all," he texted. "Must be a mix up. This number belongs to the Centennial Lakes Police Department."
He then sent a photo of himself standing by his squad vehicle, but in true "Minnesota nice" fashion still offered to contribute to the party.
"We will bring coffee and donuts," he texted.
After sharing a laugh with the officer, the organizer thanked him for having a "good spirit" and told him they were working on removing him from the group chat.
Maybe the police will get an official invite next time!