Carnival may delay Cuba cruise over discrimination concerns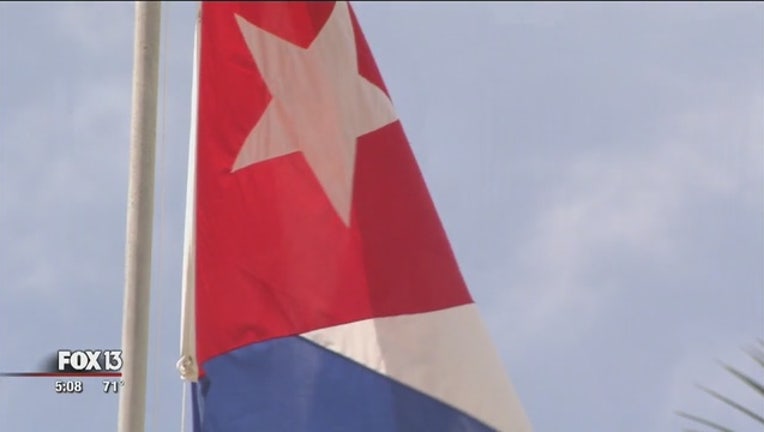 article
MIAMI (AP) - Faced with protests, political pressure and a lawsuit, Carnival Corp. announced Monday it will allow Cuban-born passengers to book cruises to the island but will delay the trips if Cuba does not change its policy barring nationals from returning by sea.
Carnival CEO Arnold Donald said in a written statement that the cruise line is continuing negotiations with Cuba aimed at resolving the issue prior to a scheduled May 1 cruise by its Fathom brand from Miami to Cuba -- the first such sail in more than 50 years that is part of the ongoing thaw in U.S.-Cuba relations.
The 704-passenger Adonia plans to sail every other week to three Cuban ports: Havana, Cienfuegos and Santiago de Cuba.
"We want everyone to be able to go to Cuba with us," Donald said. "We remain excited about this historic opportunity to give our guests an extraordinary vacation experience in Cuba."
The decision follows protests last week by Cuban-Americans outside Carnival's headquarters in the suburb of Doral. Miami-Dade County Mayor Carlos Gimenez -- who was born in Cuba -- also suggested in a letter that Carnival might be violating the county's human rights ordinance by discriminating against a specific class of people.
In addition, two Cuban-Americans who were prevented from buying tickets on the May 1 cruise because they were born in Cuba filed a potential class-action civil rights lawsuit in Miami federal court last week. And Secretary of State John Kerry said during a visit to Miami on Friday that Cuba should change its policy and that Carnival nevertheless should allow anyone to travel on its ships.
U.S. cruise ships stopped sailing to Cuba shortly after its 1959 revolution. Restarting them was an important element of the Obama administration's attempt to increase tourism to Cuba after the Dec. 17, 2014, decision to restore diplomatic relations and move toward normalization. Cruises were seen by Cuban authorities as an easy way of bringing American visitors to spend badly needed dollars in Cuba without further straining the island's overbooked often decrepit hotels.
However, the idea of massive, gleaming cruise ships discharging thousands of Americans into the streets of Havana has provoked negative reactions from some Cuban officials who fear that the U.S. is trying to re-exert control of the island through a new strategy of building closer economic ties.
The idea of Cubans moving back and forth between the two countries by sea also is particularly charged, given Cuban exiles' history of returning to attack the government, and Cubans crossing the Florida Straits in the other direction on rafts to emigrate to the U.S.
Cuba does permit Cuban-born people to arrive by air to the island. Donald said Carnival was continuing discussions so that travel on its ships would "be on a level playing field" with airlines and air charters.
"Again, we remain confident that we will reach a positive outcome and we continue to work full speed ahead in preparing for our every-other-week sailings from PortMiami to Cuba," he said.
Carnival, the world's largest cruise line, operates 10 cruise brands around the world with 100 ships that visit some 700 ports, according to the company statement.