Couple, two children located following deadly shooting in north Harris County
A murder charge has been filed against 22-year-old Romanus Robertson who is accused of shooting and killing his girlfriend's ex-husband, then taking two children on the run, instigating an Amber Alert, according to Harris County Sheriff's deputies.
The man killed in the shooting is Artuiro Magee, 34, according to Harris County Institute of Forensic Sciences. The alleged murder happened around 12:30 a.m. Monday at the Lakeview Apartments on Ella Boulevard in North Houston, according to deputies who have not released the name of the alleged shooter.
SIGN UP FOR FOX 26 HOUSTON EMAIL ALERTS
The nine-year-old and 11-month-old children at the center of the Amber Alert were found safe in Nacogdoches Monday afternoon, deputies said. They were among four children at the scene of the alleged murder, and the nine-year-old is the daughter of the murder suspect's girlfriend, deputies said.
Texas Center for the Missing issued a Houston Regional Amber Alert on behalf of the Harris County Sheriff's Office for DJ and Kalis on Monday. (Photos: Texas Center for the Missing)
The suspect was caught after a patrolman in Nacogdoches recognized the suspect vehicle following an alert sent out by the Harris County Sheriff's Office to all law enforcement agencies in Southeast Texas advising them to look for the car, deputies said. The suspect was found driving with his girlfriend, Jasmine Johnson, and the two children. Both the suspect and girlfriend were arrested.
The news of the shooting and Amber Alert sent shockwaves through the Lakeview Apartments community where Magee stayed.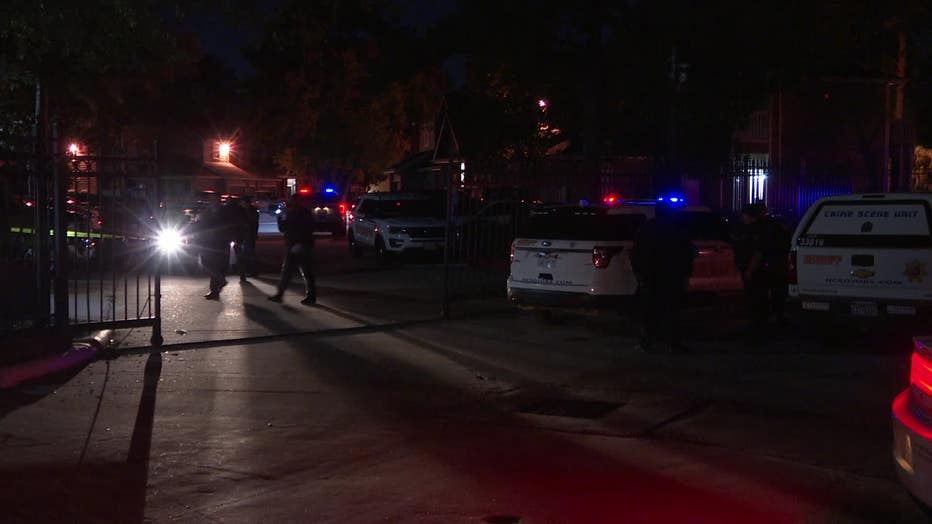 The Harris County Sheriff's Office investigates a shooting on Ella.
"I'm avoiding to live in crazy neighborhoods for a reason, so to know that this is happening here and we live here, it's like, not only my safety and my family's safety, but everyone who live here's safety is at stake," said Lisa Capata.
FOR THE LATEST NEWS UPDATES, DOWNLOAD THE FOX 26 NEWS APP
The shooting was the result of two different confrontations that turned into fist fights between Magee and his ex-wife's new boyfriend late Sunday night into early Monday morning, deputies said.
"That altercation took place inside the apartment," said Sgt. Greg Pinkins with Harris County Sheriff's Office. "The suspect left, came back, and there was a second altercation, and during that second altercation is when the victim was shot."