Houston Astros to fund building baseball, softball stadiums for HBCU Texas Southern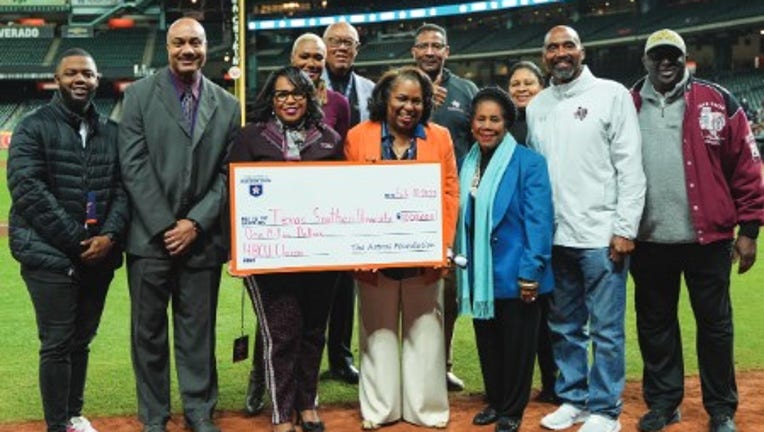 article
HOUSTON - The Houston Astros are giving back in a big way to a local Houston university by helping out their baseball and softball teams.
On Saturday evening, the Astros Foundation announced they were investing in Houston HBCU Texas Southern University (TSU) by providing funding for the university to build baseball and softball stadiums on campus.
ASTROS: Houston Astros to host Travis Scott bobblehead night at inaugural Cactus Jack HBCU Classic this weekend
"The Astros are excited to partner with Texas Southern University as they build new baseball and softball fields. TSU students deserve the opportunity to go from playing and watching baseball at a city park to having their own stadium on campus," said Paula Harris, Vice President Community Affairs and Director of the Astros Foundation. "The entire World Series winning Astros organization is proud to be a part of the historic and monumental opportunity for Texas Southern University Baseball."
Both teams currently play at off-campus city parks. The baseball team plays at MacGregor Park while the softball team plays at Memorial Park.
"I am truly grateful for this transformative partnership with the Astros and Texas Southern University," said Dr. Lesia Crumpton-Young, President of Texas Southern University. "I am confident that this will tremendously benefit our students, alumni and the surrounding community. The teamwork between TSU and the Astros Foundation has already produced outstanding results for our young scholars and their career trajectory."
TSU will break ground and begin building the new stadiums later this year, the release says.
MORE: Houston Astros sign RHP Cristian Javier to 5-year contract extension
"This partnership is a game-changer for our student-athletes. Our players already excel in the classroom as scholars.  Now they will get the facilities they deserve as athletes," said TSU Vice President of Intercollegiate Athletics Dr. Kevin Granger. "I would like to thank Houston Astros Owner and Chairman Jim Crane and his executive team for their generosity and commitment to help make this project a reality for our campus and the surrounding community."
The Texas Southern Tigers baseball team is currently playing in the Cactus Jack HBCU Classic against Prairie View A&M and Southern University. Click here to see their full schedule.
The Texas Southern Tigers softball team is set to play Abilene Christian on Friday, Feb 24. Click here to see their full schedule.