1 year after church shooting, much is the same in Charleston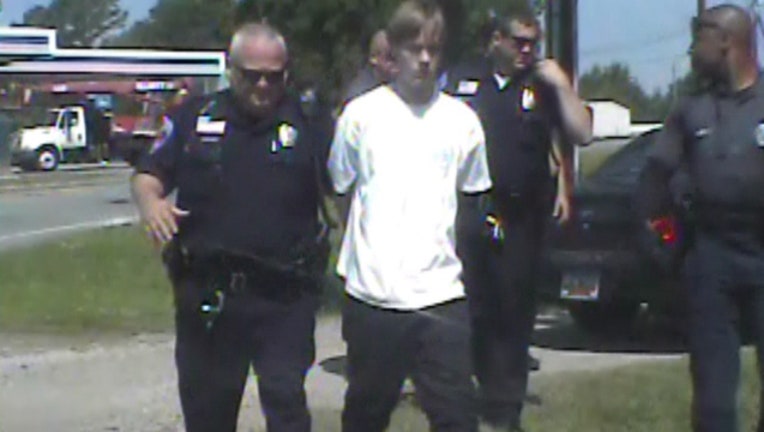 article
CHARLESTON, S.C. (AP) — The names of Confederate generals still adorn street signs in Charleston's public housing projects, and a heroic waterfront statue dedicated to the Confederate Defenders of Charleston still faces Fort Sumter, where the first shots of the Civil War were fired.
Just down from the Emanuel AME church — where nine black parishioners studying their Bibles were gunned down one year ago — a statue of Vice President John C. Calhoun, a staunch defender of slavery, towers above a park.
After the June 17, 2015, massacre, South Carolina lawmakers did what many people thought was impossible to achieve and removed the Confederate flag from the Statehouse grounds in Columbia. Across the country, as far away as Alaska, officials moved to strip streets, college dormitories and even lakes of the names of Confederates, secessionists and public figures who championed segregation.
But a year later, little has changed in Charleston, the city where tens of thousands of enslaved Africans first set foot in North America. It was here that the work of plantation slaves made the city one of the wealthiest in the nation before the Civil War. It was here where the bombardment of Fort Sumter threw the nation into that war in 1861.
A section of a street in front of the white stucco Emanuel AME church may have been renamed "Mother Emanuel Way Memorial District," but all of Charleston's Confederate commemorations remain intact — and longstanding racial issues endure.
"I think a lot of things happened out of the immediate emotions of how horrific the killings were. That's the human side of folks and the politeness, particularly of Charleston, that we just had to do something. But then when reality checks us — the question is what is that going to cost us in terms of changing the way we think and do things?" said Dot Scott, president of the Charleston branch of the NAACP.
A white man who police said hated blacks and posted photos of himself with the Confederate flag has been charged with killing the nine parishioners.
"It was truly an attack on a race of people," Malcolm Graham, the brother of victim Cynthia Hurd, said of the shootings. "After 400 years, the African-American community still is suffering and dealing with these types of issues relating to race."
So why was there not a push to remove Confederate symbols in Charleston following the church attack?
Bernard Powers, a black College of Charleston history professor, noted that it took a 15-year struggle to get the flag removed from the Statehouse grounds and that it happened only after the slayings.
"People see what it took, and ultimately that flag was removed because nine people were murdered," said Powers, who co-authored a book about the massacre called "We are Charleston." ''I think people appreciate how deeply entrenched the reverence is for the Confederacy. For a lot of folks, it is a civil religion."
As soon as South Carolina lawmakers voted to pull down the flag, they shut the door on any other changes.
Gov. Nikki Haley had pushed for the flag to come down but feared that going further would incite fights across the state, so she asked lawmakers to protect all the other flags and monuments while removing the Statehouse flag.
"Our goal was to hold everything together. Let's do what we can, let's be kind and accepting and understand history is just that — it's history," she said.
So a statue of former Gov. and U.S. Sen. "Pitchfork" Ben Tillman still stands on the Statehouse grounds. Tillman once famously praised a lynch mob that killed seven black Republicans in 1876 to intimidate others from voting. The statue calls him a "friend and leader of the common people" but makes no mention of the violence he bragged about for decades, something black lawmakers would like to see added.
Changing a monument requires a two-thirds vote, and South Carolina and House Speaker Jay Lucas has vowed to block changes of any kind.
That means the Citadel, South Carolina's Charleston-based military college, has to keep the Confederate flag up in the campus chapel among the flags of the 50 states and other territories, even though the school's board of visitors voted to take it down.
It's not just South Carolina. North Carolina passed a bill protecting its Confederate monuments, and other Southern states also made it harder to alter monuments or change the names of buildings honoring prominent Confederates.
Like many southern states, just about every North Carolina county has a monument extolling the bravery and honor of its Confederate soldiers.
University of North Carolina history professor W. Fitzhugh Brundage, who is white, said he understands blacks who feel alienated seeing statues in public places honoring those who fought a war in large part to keep them enslaved.
"That is a reminder that this state's history includes an organized effort to keep people like you, African-Americans, enslaved at the cost of hundreds of thousands of lives and hundreds of millions of dollars of destruction," he said.
Though the monuments remain, the Confederate fervor may be fading decade by decade in Charleston. The area commemorated the 150th anniversary of the Civil War earlier this decade with subdued events at Fort Sumter and elsewhere, compared to the celebratory mood surrounding the 100th anniversary. And there was a new emphasis on slavery as a cause of the war and the roles that blacks played in the conflict.
Daniel Turner, a 57-year-old wastewater treatment plant operator from Charlotte, North Carolina, visiting Charleston's Confederate Museum, said he realizes why the Confederate flag is offensive to many.
"I understand the flag," Turner said. "There are bad people who used it. But the monuments are different. They are a part of history. We can't change that."
Brundage said he expects skirmishes over Confederate monuments to continue to pop up across the South, but that a full-scale removal of Confederate symbols still seems a long way off, even generations removed from the Civil War.
"The flag may be down in front of the Statehouse of South Carolina, but the landscape of South Carolina is still full — bursting — with symbols honoring the Confederacy," the professor said. "And they're going to be there."
___
Drew reported from Raleigh, North Carolina. Alex Sanz contributed to this report from Charlotte, North Carolina, and Bruce Smith contributed from Charleston.