Security camera records night visitor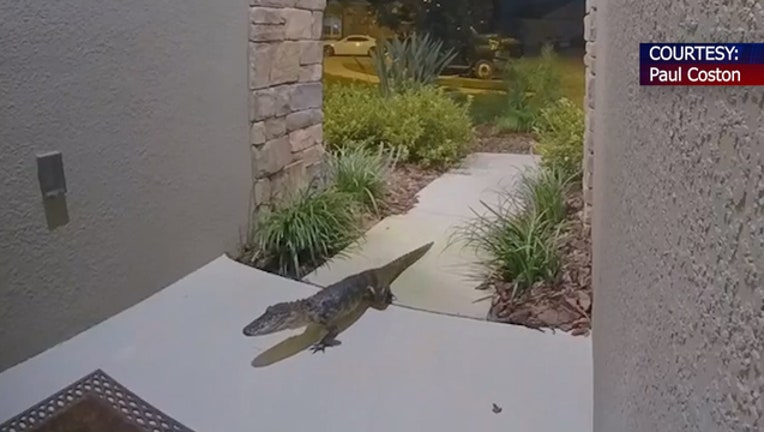 article
ORMOND BEACH, Fla. (WOFL FOX 35) - A surveillance camera at a home in Ormond Beach, Florida recorded an unexpected night visitor -- too short to ring the doorbell, but big enough to scare the heck out of the people who live there.
An alligator was spotted on camera walking down a sidewalk, crossing a driveway and walking right up to the front door and making himself at home.  The four-to-five foot gator perched at the front door of the home along River Manor Lane.  Paul Coston and his family, including two small children, were asleep at the time.
Neighbor Valerie Barboza her daughter, Savannah, and son, Christian, were surprised at how bold this gator was.
"It was scary knowing this was walking around and walking up to the front doors or possibly the back door," Valerie said.
"I am outside a lot,," Christian added.  "It does make me a little nervous, because today when I checked the mail, you gotta be careful at the door now!"
After standing near the door for a minute, the gator turned around a strolled back to wherever it came from -- likely a pond behind the homes.
"Obviously, he is used to going up to doors, because the gator wasn't scared, went right up to the front door!" Valerie said. "Imagine opening the door to let your dogs out or children out to go to the bus stop and being greeted by a gator!"
Some of the families here have contacted animal control and private trappers. They want the alligator taken out of the neighborhood.