Safety Tyrann Mathieu signs with Houston Texans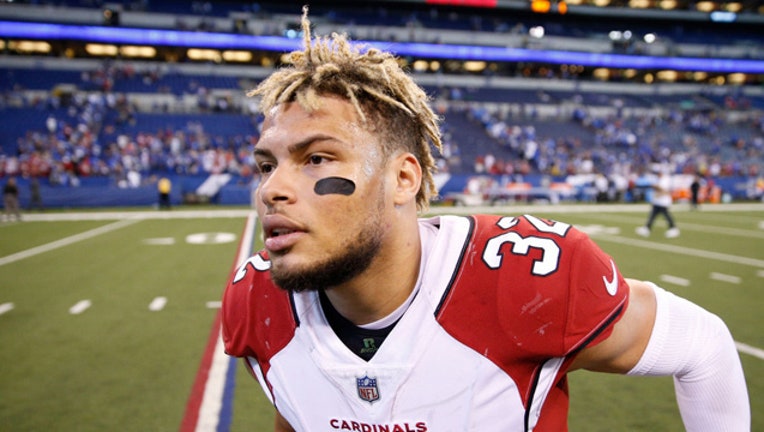 HOUSTON (FOX 26) - The "Honey Badger" is returning to the Gulf Coast after signing as a free agent with the Houston Texans. The Arizona Cardinals released safety Tyrann Mathieu on Wednesday after the two sides couldn't rework his contract.
Mathieu gets a one-year deal from the Texans worth up to $7 million with a $4.5 million signing bonus.
Mathieu was due for $18.75 million of his contract to be guaranteed when the league year officially begins. By cutting him, Arizona will save close to $5 million in cap space.
Mathieu became a star in the Arizona secondary and a fiery leader of the defense after being selected in the third round of the 2013 draft following a troubled college career at LSU. He was an All-Pro in 2015, when he had five interceptions and 17 passes defensed.
But he also has been plagued by injuries and only last season did Mathieu appear in all 16 games.
"I've never made a secret that Tyrann has always had a special place in my heart and always will," Cardinals general manager Steve Keim said in a statement announcing the release. "While we all understand this is a part of the business, that certainly doesn't make it any easier. We all wish Tyrann nothing but continued success in his career and beyond."
Following his release, Mathieu exchanged Twitter posts with supporters.
One of them , "Bro you know I'm a savage. I hate the mushy stuff, but I'm gonna miss everyone in AZ. Who's going to annoy you now?"
At LSU, Mathieu was one of the most dynamic defensive players college football had known, becoming a finalist for the Heisman Trophy as a sophomore. But he got into trouble with marijuana and eventually was kicked out of school.
Mathieu spent an entire season out of football and slid to the third round before the Cardinals took a chance by selecting him in 2013.
Off the field, he was a model citizen and with his fierce style and natural charisma, was among the most popular players on the squad.
His rookie season ended prematurely when he tore the LCL and ACL in his left knee.
His big 2015 season was cut short when he tore the ACL in the other knee. His absence was sorely felt as the team that went 13-3 and won the NFC West faltered down the stretch, barely getting past Green Bay in the divisional round before being routed by Carolina in the NFC championship game.
Despite the injury, the Cardinals rewarded him with a five-year, $62.5 million contract, with $15.5 million guaranteed.
He finally was able to play an entire season last year - in fact, he played every defensive snap - but there was a perception that he had lost a step from his "Honey Badger" prime.
Still, expect several teams to be interested. Safeties as versatile as the fierce 5-foot-9 Mathieu are hard to find.
He has 11 career interceptions, four sacks, 41 passes defensed and 281 tackles in 66 NFL games. He had two interceptions last season.
___
For more NFL coverage: http://www.pro32.ap.org and http://www.twitter.com/AP_NFL