Paul scores 25; Rockets top Thunder for 16th straight win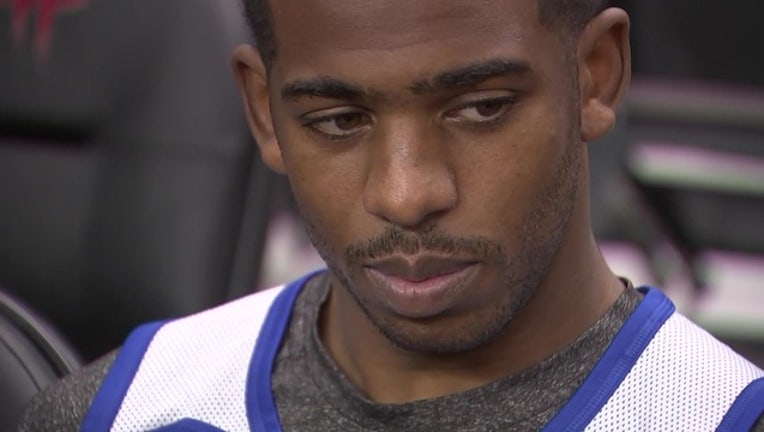 OKLAHOMA CITY (AP) - Chris Paul scored 25 points and the Houston Rockets beat the Oklahoma City Thunder 122-112 on Tuesday night for their 16th straight win.
James Harden had 23 points and 11 assists, and Trevor Ariza added 15 points for the Rockets, who are on the second-longest win streak in franchise history.
Russell Westbrook scored 32 points and Carmelo Anthony added 23 for Oklahoma City, which is in a logjam of teams trying to fight their way into third place in the West.
Oklahoma City had beaten several of the league's top teams this season. The Thunder have two wins over Golden State, a victory over Toronto and a win over Cleveland this season. The Rockets avoided that fate by going 17 of 33 on 3-pointers and 29 of 34 on free throws.
The Rockets led 54-45 at halftime as Harden posted 13 points, seven assists and five rebounds. Anthony had 19 points for the Thunder and Westbrook had 14, but All-Star Paul George went 1 for 7 from the field before the break.
The Thunder closed the gap to three in the opening minutes of the third quarter, but the Rockets dominated the rest of the way and led 87-74 at the end of the period. Houston made 7 of 10 3-pointers in the quarter.
Houston extended its lead to 19 midway through the fourth quarter.
TIP-INS
Rockets: Forced eight turnovers in the first quarter. ... Shot 52.5 percent in the first half. ... Improved to 33-1 when Harden, Paul and Clint Capela all play in the same game. ... Lost to the Thunder on Christmas Day while Paul sat out with a groin strain.
Thunder: G Corey Brewer made his Thunder home debut. He played his first game with the team last Saturday in Portland. He finished with 10 points in just over 23 minutes. ... Anthony passed Jerry West to move into 20th in NBA history in scoring. ... Anthony returned after resting in Oklahoma City's previous game at Portland.
UP NEXT
Rockets: Play at the Milwaukee Bucks on Wednesday.
Thunder: Host the Phoenix Suns on Thursday.
   ------
More NBA basketball: https://apnews.com/tag/NBAbasketball
   ------
 Follow Cliff Brunt on Twitter: www.twitter.com/CliffBruntAP