James Harden to miss at least 2 games with hamstring injury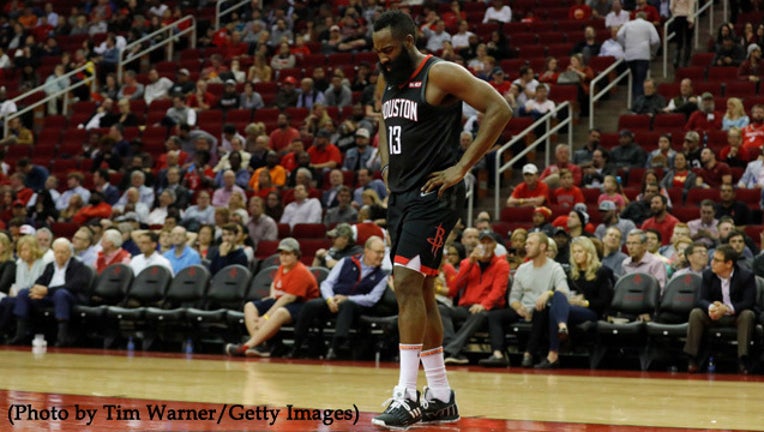 article
HOUSTON (AP) - James Harden will miss at least two games because of a hamstring injury, starting with Houston's game against the Los Angeles Clippers on Friday night.
Harden didn't practice on Thursday after leaving Wednesday night's loss to Utah after experiencing tightness in the hamstring in the fourth quarter.
General manager Daryl Morey said Thursday that Harden had a Grade 1-Plus hamstring strain and that he'd sit out on Friday and Tuesday against Portland before being re-evaluated.
Harden scored 29 points Wednesday night in the 100-89 defeat that dropped the Rockets to 1-3 before heading to the locker room with just more than five minutes remaining.
Harden missed seven games last season with a Grade 2 hamstring strain and said after the game this was not the same type of injury.
"It's nothing serious. Nothing serious," he said. "It's not close to last year. Just being cautious."
D'Antoni said he doesn't expect this problem to cause Harden to miss extended time. Houston has won just one of its four games.
"Long-term not concerned because he'll get over it ... (but) I'm concerned about trying to win in the meantime," D'Antoni said. "But we've got enough guys and we've got to hold serve and we've got to play better. Whether he's in or not, we're just not playing very well."
Also on Thursday, Morey said that James Ennis has a Grade 2 strain of his right hamstring and that he'll also miss the next two games.
The Rockets will also be without Nene for the foreseeable future because of a strained right calf. The center hasn't played this season because of the injury and Morey said he'll be out for at least two more weeks before being re-evaluated.
The Rockets will get a boost with the return of Chris Paul, who missed the last two games serving a suspension for his role in a fight with Lakers' player Rajon Rondo.
"It was tough," he said. "But I did my time."
Paul, who wasn't allowed on the bench with the team during his suspension, watched Wednesday night's game at home with his family.
"It was real strange. Let's try and hope that doesn't happen again. It costs too much," said Paul of the suspension that cost him $491,782.
___
More AP NBA: https://apnews.com/tag/NBA and https://twitter.com/AP_Sports