2023 NFL Draft: Houston Texans make a splash in the first 3 picks
KANSAS CITY - The Houston Texans made a big splash in just the first 30 minutes of the NFL Draft on Thursday evening in Kansas City.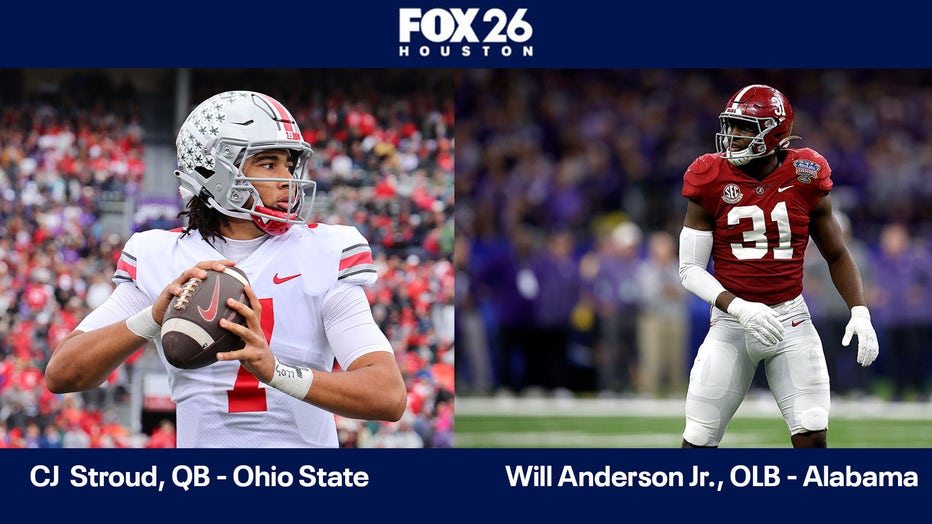 With the #2 overall pick, the Texans selected C.J. Stroud, a quarterback from Ohio State. 
Perhaps the most accurate QB in the draft, Stroud comes to Houston after a prolific career in Columbus. In two seasons as the Buckeyes' starter, Stroud threw for more than 8,000 yards, 85 touchdowns, and just 12 interceptions. 
He led Ohio State to the college football playoff this past season, where they fell to eventual national champion Georgia after missing a game-winning field goal as time expired. 
Measuring 6'3", 214 pounds, Stroud has more of a prototypical build for NFL QB than Alabama's Bryce Young, the other top player at the position in this year's class. 
Despite his size and impressive collegiate resume, some scouts still have questions about Stroud due to the recent history of Ohio State QB's struggling in the NFL. 
DOWNLOAD THE FOX 26 HOUSTON APP BY CLICKING HERE
The Texans hope his final college game is an example of what make Stroud's the exception to the Ohio State QB stigma. Against a Georgia defense littered with future NFL draftees Stroud went 23-of-34 passing, for 348 yards and 4 touchdowns. 
Then in a shocking trade, the Houston Texans traded up to the #3 overall pick from the Arizona Cardinals. They chose Will Anderson Jr., an outside linebacker from Alabama. 
Standing 6'3", 253 pounds, Anderson was one of the most feared defenders in the Southeast Conference, racking up 34.5 sacks and 58.5 tackles for loss in just three seasons. His best season came as a sophomore in 2021, in which he recorded 101 total tackles, including 17.5 sacks and 31 tackles for loss. 
Even with opposing offenses keying in on him in 2022, Anderson still managed 10 sacks and 17 tackles for loss this past year. 
Anderson's size and athleticism give new Texans head coach DeMeco Ryans – also a former Crimson Tide standout – a cornerstone around which to build his defense. While serving as the 49ers defensive coordinator the past two years, Ryans' defense allowed star Nick Bosa to flourish, culminating in an NFL Defensive Player of the Year award this past season. 
For the trade, the Texans gave up the #12 and #33 overall pick from the 2023 Draft and two picks in the 2024 draft, a first-round and third-round pick. The Texans also got a fourth round pick in this year's draft.